Bad Boy Mowers Kawasaki FR730 726cc
/ NOT AVAILABLE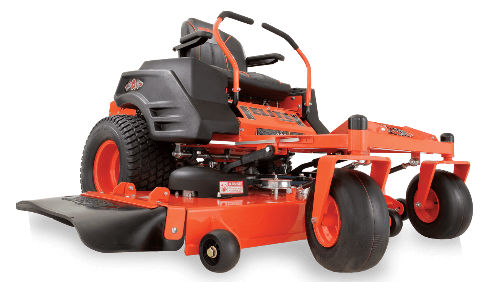 Double tap to zoom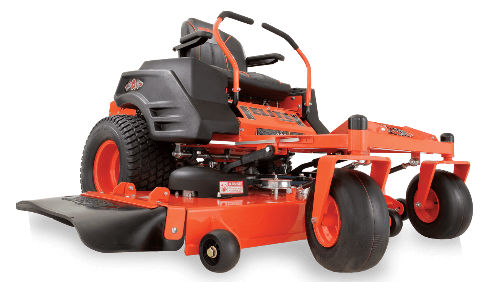 Features
New Comfort Seat
More cushion and comfort with high-back seat and padded arm rests.
New Deck Dial Adjustment
Use electric deck lift and lock-in deck height (up to 4.5") with a twist of our new Deck Dial feature.  An optional foot-assist deck lift pedal is also available.
New Steering Arm Housings
Provides firmer, tighter and more precise control of mower.
New Wider Stance
Provides better traction and performance, even on slopes.
New Actuator Lift Bars
With four lift points for smooth deck lift performance and firm support.
New Rubber Floor Mat
Flip-up deck provides easy access for maintenance and cleaning.  Now features a heavy-duty rubber floor mat to protect the deck surface.
New Anti-Scalping Wheels
Feature spring washers for dependable use.
New Curved Front Rail
Creates an even stronger frame.  Taller caster bearings feature flat caps.  Also allows you to maximize trailer space.
New 5.5" Deep Deck
Heavy-gauge 7 gauge steel deck with 3/8" leading edge reinforcement has a deeper 5.5" design for handling larger volumes of grass.
New Pulley Belt Covers
Lower profile covers are easy to get on and off.
New Rims
Black front and rear rims for a bolder look.
New Transaxle Lowered
For easier maintenance and better weight distribution along the frame.
New Larger Tanks
New ergonomic design tanks not only hold more fuel (6.5 gallons) but also improved storage capacity with cup holder.
New Tie-Down Slots
Cut in the back panel, slots allow tie down hooks to lock mower down in transport.
New Parking Brake
90° Parking brake handle is easier to get a handle on.
New Hydraulic Tank Position
Tanks have been moved to underneath seat
New Smoother Steering Arm Operation
New dampeners provide twice the dampening force for smoother operation.
Specifications
Mower Specifications
 
Cutting Width
4800 - 48"; 5400 - 54"; 6000 - 60"
Cutting Height
1.5" – 4.5" with Deck Height Control System
Blades
4800 - 1/4" x 2 1/2" x 16 1/2", High Lift, Heat Treated
5400 - 1/4" x 2 1/2" x 18 3/4", High Lift, Heat Treated
6000 - 1/4" x 2 1/2" x 20 1/2", High Lift, Heat Treated
Lift and Height Adjustment
Instant Lift Electronic Actuator
Blade Belt
Single V-Belt Spring Tension
Anti-Scalp Rollers
4800 - 4 Total (2 Front, 2 Rear)
5400 - 4 Total (2 Front, 2 Rear)
6000 - 6 Total (4 Front, 2 Rear)
Deck Flotation
Floats On Four 1/4" Deck Hangers
Deck Thickness
3/16" Thick Solid Steel
Engine Specifications
 
Gross Horsepower/cc
726cc Air-Cooled Kawasaki FR
Cylinders
90 Degree V-Twin
Displacement
726 cc
Maximum Torque
40 ft. lbs. @ 2,600 RPM
Fuel Requirement
Unleaded Gasoline (87 Octane or higher)
Fuel Capacity
6.5 Gallons
Fuel Filter
Replaceable In-Line Filter
Cooling System
Air-Cooled
Ignition
Electronic
Starter
12 Volt
Charging System
20 Amp
Drive System Specifications
 
Transmission
3100 Hydro-Gear® 10cc Integrated Transaxle
Pump Drive
Integrated Axial Piston Pump & Motor w/Gear Reduction
Wheel Drive
Integrated with Commercial Grade Gear Reduction
Hydrostatic System Oil
20W50 Motor Oil
Hydraulic Filter
25 Micron, Replaceable Spin-On Type, 1 Per Axle
Pumps (2)
10cc Pump and Motor Integrated In One Unit
Hydraulic Coolers (2)
7" Cooling Fan; One per unit
Mower Dimensions
 
Weight

4800

- 788 lbs.;

5400

- 823 lbs.;

6000

- 841 lbs.
Overall Height
46"
Overall Width
Chute Up/Chute Down

4800

- 55" / 62";

5400

- 58" / 67";

6000

- 64" / 74"
Overall Length
74 1/2"
Tire to Tire Width
46"
Tires - Front
13 x 6.5 - 6 Smooth Tread
Tires - Rear
22 x 11 - 10 Turf Tread
Steering
Dual Lever Steering, Independent Control
Turning Radius
Zero Turn - Zero Degrees, Turns Within Unit Length
Ground Speed (forward)
Up To 7 mph
Parking Brake
Internal Parking Brake