Great Plains NTA-3010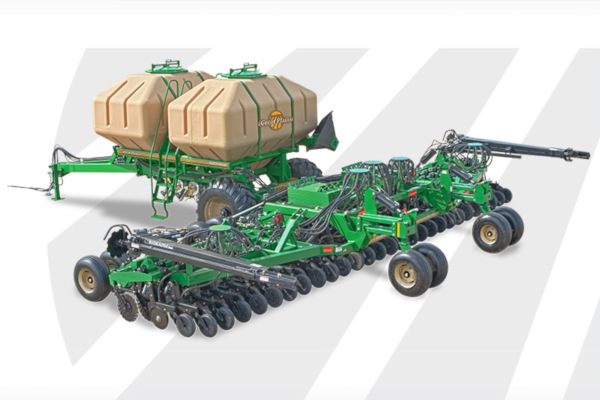 Double tap to zoom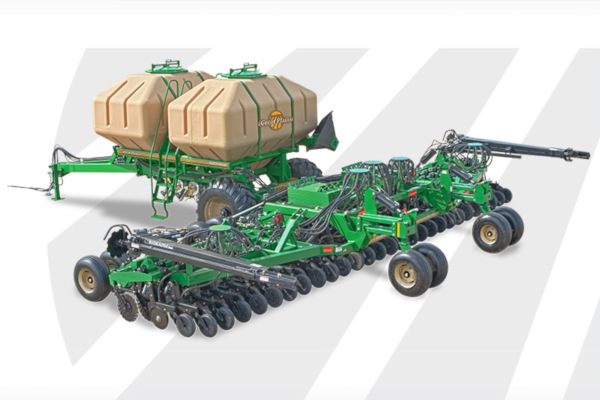 Features
UNIFORM SEED DISTRIBUTION
A single fan supplies air to a divided manifold, where the star-wheel meters drop the seed into the airflow of each tower. The towers use a transition cone to uniformly divide the seed to individual rows. A full-length seed tube completes the process, delivering seed to the bottom of the seed trench.
INTEGRAL CART-IMPLEMENT COMBINATION
Semi-mounted to the cart, the implement is short-coupled and extremely flexible in the field. This design also offers exceptional maneuverability when backing into corners of a field or into the storage shed. Because the additional weights are added directly to the center implement section, planting remains consistent whether the cart is full or empty. Hydraulic weight transfer is standard, keeping both the center and wing penetration consistent.
HYDRAULIC WEIGHT TRANSFER
Transfers weight from the center frame to the wings, allowing even distribution of weight across the entire width of the implement.
Specifications
MODEL INFO
30' NO-TILL AIR DRILL IMP
MODEL
NTA-3010
TYPE
Air Drills
PRIMARY DESIGN
No-Till
ROW SPACINGS
7.5", 10"
NUMBER OF OPENERS
48, 36
TIRE SIZE
11L-15SL
H.P. REQUIREMENTS (min)
275+
WEIGHT (approx. range)
15,700-17,650 lbs
DIMENSIONS 
WORKING WIDTH
30'
WIDTH (transport)
16' 10"
LENGTH (transport)
37' 6"
CLEARANCE (transport)
14"
HEIGHT (transport)
12' 6"
OPENER SERIES
10 Series
COULTER
5/8" Turbo, 5/16" Fluted, 3/4" Wavy
CAPACITIES 
MAIN BOX CAPACITY
2-110 bu hoppers (ADC2220) or 2-175 bu hoppers (ADC2350)
SMALL SEED BOX
N/A
NATIVE GRASS BOX
N/A
FERTILIZER
Depends on Cart