Great Plains 7333DH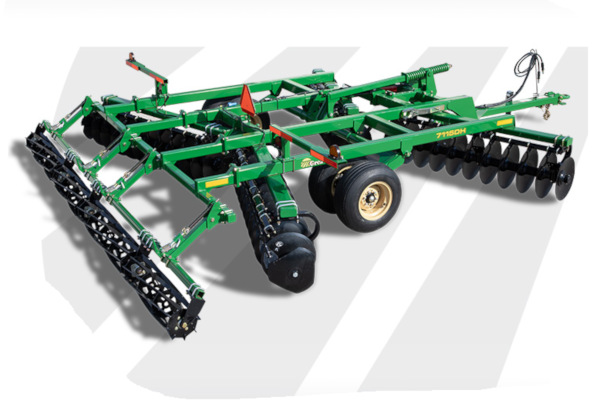 Double tap to zoom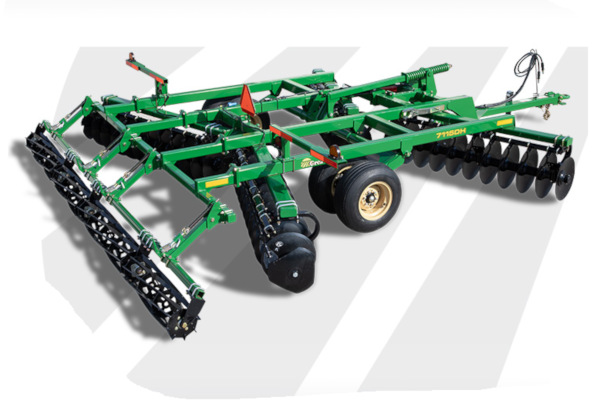 Features
EXCLUSIVE MAINTENANCE-FREE BEARINGS
These 360° self-aligning bearings are never sideloaded. A six-lip seal on each side locks in grease and prevents contamination, which reduces maintenance time and extends the life of the bearings.
SPRING-OFFSET C-SHANKS
Offset C-shanks cushion the gangs and protect the unit. The offset design also maximizes the clearance between the disc blades to help prevent plugging.
SPRING-LOADED SCRAPERS
Standard scrapers are spring loaded; quickly make them rigid by tightening a bolt.
SPEEDBLADE™
With a 5% faster turning speed than regular concavity blades, the exclusive SpeedBlade™ aggressively powers through heavy residue and thoroughly mixes soil at higher speeds without ridging. This self-sharpening serrated blade works like a regular notched blade, but its shallower blade cutout allows for shallower working depth. Unlike competitive blades, the low-concavity SpeedBlade stays sharper longer and maintains its shape as it wears. With more blade surface, the SpeedBlade wears better and last longer than blades with larger notches.
SINGLE-POINT DEPTH CONTROL
Change the depth of the entire machine from one central location.
INCREASED TIRE AND HUB CAPACITY
All transport tires are radial tires and carry loads at 73 psi. Units also feature 8-bolt hubs on center and wings, with up to 8000-pound capacity for improved reliability.
IMPROVED GROUND CLEARANCE
Transport clearance of 13" allows for 24" or 26" diameter blade options, and a low-profile, t-style hitch tightens the turning radius in the field. Hydraulic gauge wheels, which actively raise and lower with main lift wheels, have also been added to the outside wings on larger units.
IMPROVED GANG BARS
Stronger 4" x 6" gang bars have polygon bushings and hardened pins for greaseless hinge points. Four bolt attachment plates and cradle gussets relieve stress on gang tubes.
HYDRAULIC GAUGE WHEELS
Front gauge wheels adjust manually on 23', 26', and 30' models and hydraulically on 29', 33', and 36' models. Hydraulic gauge wheels prevent gouging and wing hop.
HYDRAULIC FORE/AFT LEVELING
On 3-section models, hydraulic fore-and-aft leveling simplifies field adjustments to create a smooth finish in any soil condition.
HEAVY, DUCTILE CAST SPOOLS
Our heavy, ductile cast spools each weigh 23.55 lbs., while welded spools used by competitors weigh only 11.01 lbs. each. Putting weight "in" the gang versus "over" the gang increases reliability in the C-shank and bearings. Nuts on each end of the disk gangs provide easy, quick maintenance.
DOUBLE OFFSET
Design ensures complete center cutout and eliminates the need for a middle breaker.
DISC BLADE CHOICES
Equip your disk harrow with a choice of disc blades. Click on the photo to view all options (from left): 22" or 24" SpeedBlades; 22" 6-gauge; 22" .25" rollable; 24" 6-gauge; 24" .25" rollable; 26" .25" non-rollable; or 26" .25" notched. SpeedBlades turn 5% faster than conventional smooth discs.
Specifications
| | |
| --- | --- |
| MODELS | 7333DH |
| NO. OF BLADES (9") | 94 |
| NO. OF BLADES (7.5") | 110 |
| TRANSPORT TIRES | 380/55R16.5 (4) |
| WING TIRES | 12.5Lx15 (4) |
| WEIGHT (APPROX LBS) | 19,900 |
| PTO H.P. REQ (MIN) | 231+ |
| DIMENSIONS |   |
| TILLAGE WIDTH (9") | 33' 1" |
| TILLAGE WIDTH (7.5") | 32' 7" |
| WIDTH (TRANSPORT) | 18' 2" |
| HEIGHT (TRANSPORT) | 14' |
| TILLAGE INFO |   |
| CENTER SECTION | 13' 6" |
| 1ST SECTION | 8' 11" |