Great Plains 9748PP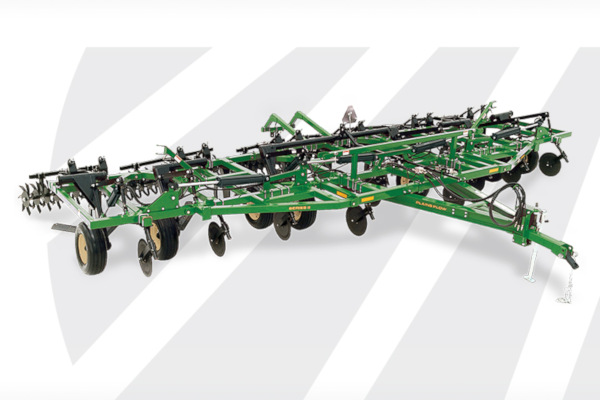 Double tap to zoom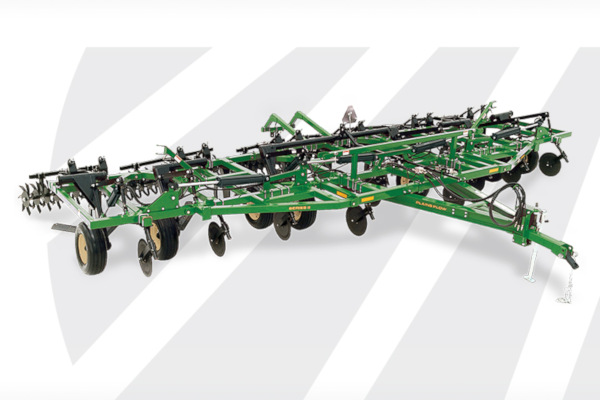 Features
HEAVY-DUTY ROLLING COULTER
Features a full 20" blade with a yoke-mounted, 4-bolt hub assembly.
48" SWEEPS
Narrower-than-standard V-Blades provide consistent depth in rolling conditions and clean better in "sticky" soils.
21" TREADER WHEEL
7" spacing is ideal for breaking clods, uprooting weeds, and preparing a seedbed. Hard faced for long life.
EXCLUSIVE MAINTENANCE-FREE BEARINGS
These 360° self-aligning bearings are never sideloaded. A six-lip seal on each side locks in grease and prevents contamination, which reduces maintenance time and extends the life of the bearings.
WALKING TANDEMS
Walking tandems on all center frames help keep the depth consistent when going over undulations.
TWO SWEEPS PER SECTION
Two sweeps per section effectively follow undulations and feature 4" of blade overlap. Leading coulter cuts residue for better trash flow around the V-blade.
PILOT-OPERATED CHECK VALVE
Lock the cylinders in place and provide consistent depth control across the entire width of the unit.
HIGH & LOW LIFT BLADE CHOICES
Narrower, 4½"-wide low-lift blades (top) work at shallower depths, require less horsepower, and conserve valuable soil moisture by reducing the tillage depth needed for effective weed control. The low-lift design also leaves the field smoother than traditional 72" configurations and, in many cases, allows planting directly behind the Plains Plow. The 6½"-wide blades (bottom) are for working deeper. This high-lift design provides more soil separation from weed roots.
GREATER UNDERFRAME CLEARANCE
Thirty-inches of vertical underframe clearance and pusher rockshaft axles maximize shank clearance when operating in the field.
EFFECTIVE FRAME DESIGN
Heavy-duty I-beam hitch pulls from a true center section to provide unmatched strength that eliminates the center buckling often seen in hinged center-frame designs. Dual-blade wing sections reduce buckling and stay in the ground better than single 72" blade designs.
Specifications
| | |
| --- | --- |
| MODEL | 9748PP |
| NO. OF BLADES | 13 |
| NO. OF SWEEPS | 13 |
| TIRES | 11Lx15 F-ply |
| WEIGHT (approx. lbs) | 18,620 |
| PTO H.P. REQ (min) | 335+ |
| DIMENSIONS |   |
| TILLAGE WIDTH | 48' |
| TRANSPORT WIDTH | 25' 6" |
| TRANSPORT HEIGHT | 14' 6" |
| TILLAGE INFO |   |
| CENTER SECTION | 10' |
| 1ST WING SECTION | 7' |
| 2ND WING SECTION | 7' |
| 3RD WING SECTION | 4' |