Great Plains UD3000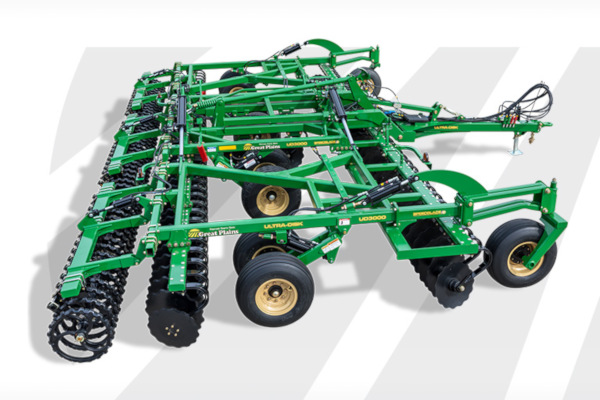 Double tap to zoom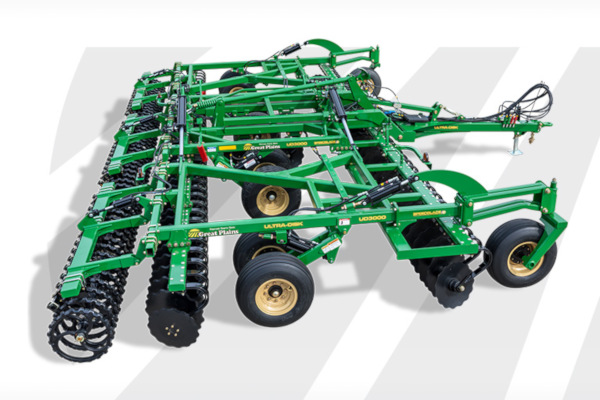 Features
Three Choices of Finishing Attachments
Each hydraulically-controlled rear attachment creates a uniform seedbed by breaking up clods and consolidating soil for uniform density. • The MaxLift™ cast roller aggressively firms and corrugates the soil to limit wind erosion and capture winter moisture. • The seedbed conditioner reel, with its 17-inch roller and 1-inch rods, leaves the ground smoother in low residue situations and permits seeding directly behind the unit. • Combine two-bar coil tines with the seedbed conditioner reel to evenly distribute residue, leaving the ground smooth for planting.
Parallel Gangs
The Ultra-Disk's combination of parallel gangs with low-concavity SpeedBlades allows it to perform at higher speeds than a conventional disk. It sizes and buries residue as well as or better than a conventional double-offset or tandem disk, leaving a high-quality finish.
Low Concavity SpeedBlades™
Blades are designed to size and bury residue better than competitors' notched blades, with a superior cutout up to 5" working depths.
Individual C-Shanks
The 24" blades are mounted on individual, heavy-duty C-shanks. These run at an 18° angle on the front gangs and a 14° angle on the back gangs, with 10" spacing for excellent residue flow with effective cutout.
Heavy-Duty Maintenance-Free Bearings
Cast hubs with "preset" tapered bearings handle sideloading more reliably than competitive ball bearings. These maintenance-free bearings have a six-lip seal on each side to lock in grease and prevent contamination, extending the life of bearings and reducing maintenance time and costs.
Specifications
MODEL INFO
ULTRA-DISK
MODELS
UD3000
WEIGHT (approx. max weight w/o attachments)
19,300 lbs
(8,754kg)
PTO H.P. REQ (min)
330+
DIMENSIONS
 
TILLAGE WIDTH
30'
(9.14m)
TRANSPORT WIDTH
15' 2"
(4.62m)
TRANSPORT HEIGHT
15'
(4.57m)