Great Plains 2510HDP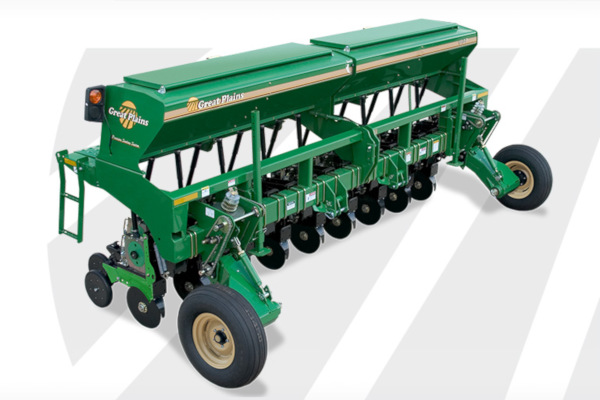 Double tap to zoom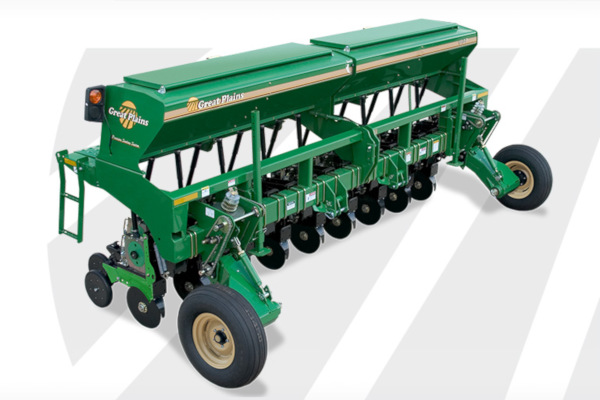 Features
METER OPTIONS
In most conditions, the accuracy of the Great Plains fluted feed meter is more than adequate. The combination of a 4-speed drive and adjustable seed-rate handle ensures accurate rates and acceptable in-row plant spacing. For more accuracy, the Singulator Plus™ meter evenly spaces seeds in the row and allows the operator to plant by population similar to a planter.
GAUGE WHEEL DRIVE
Ensures speed sensitive seed metering. Frame height is also controlled with these large rib implement tires.
10HD SERIES OPENERS
The 10HD Series is truly a heavy-duty opener and has 10" of travel to navigate undulating field conditions.
Specifications
MODEL INFO
25' 3-POINT DRILLS
MODEL
2510HDP
TYPE
3-Point Mounted
PRIMARY DESIGN
Min-Till to No-Till
ROW SPACINGS
7-1/2" (19.1cm)
10" (25.4cm)
15" (38.1cm)
TWIN-ROW: 30", 30" w/ split
NUMBER OF OPENERS
40 - 7-1/2"
29 - 10"
20 - 15", TR30"
29 - TR30" w/ split
TIRE SIZE
11Lx15
H.P. REQUIREMENTS (min)
275+ w/MFWD (205kw)
WEIGHT (approx. range)
7,190-9,370 lbs (3,261-4,250kg)
DIMENSIONS
 
WORKING WIDTH
25' (7.62m)
WIDTH (transport)
25' 2" (7.67m)
LENGTH (transport)
9' 9" (2.97m)
CLEARANCE (transport)
{depends on 3-point hitch}
HEIGHT (transport)
6' 2" (188cm)
OPENER SERIES
10HDP Series
COULTER
5/8" Turbo
5/16" Fluted
CAPACITIES
 
MAIN BOX CAPACITY
57 bu (2009L)
SMALL SEED BOX
6.0 bu (211L)
NATIVE GRASS BOX
N/A
FERTILIZER
N/A