Great Plains 2025A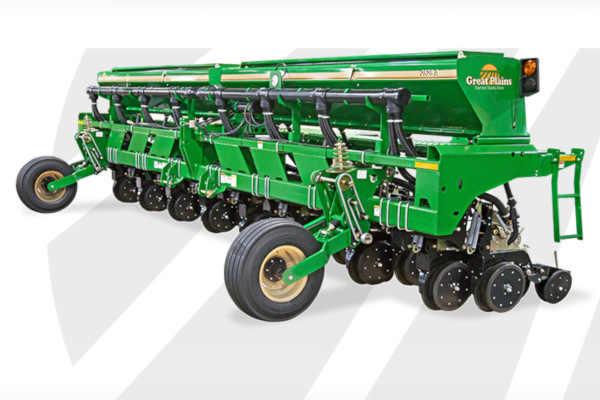 Double tap to zoom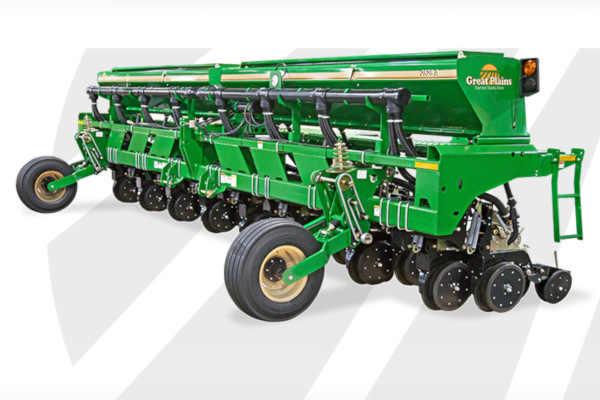 Features
TUNED MANIFOLD
Each Yield-Pro® air manifold contains orifices to deliver the same volume of air to every row. This detail helps ensure consistent seed rates throughout.
SPRING-LOADED CONTACT GROUND DRIVE
Allows the drive wheel to absorb undulations in the field to maintain consistent drive speed.
SENSORS
Internal meter pressure is constantly measured and adjusted automatically to deliver unmatched seed singulation.
6" HYDRAULIC FAN
Provides air pressure to each Air-Pro(R) Meter.
AIR-PRO® METER
This simple, positive air pressure meter offers the highest level of singulation on the market today, and achieves uniform spacing by "dead-dropping" seed into the patented Clear-Shot® seed tube.
25 SERIES ROW UNIT
The 25 Series row unit utilizes ductile cast parallel arms for long-term row unit stability. 15", 4mm blades turning on 205 triple-lip seal bearings ensure long life and accurate seed depth. Blades are offset ½" to slice residue and form a perfect seed trench.
Specifications
MODEL INFO
20' 3-Point Mounted
MODEL
2025A
ROW SPACINGS
9.5", TR30", TR36", TR36"-15, TR38"
TIRE SIZE
11Lx15.5L 12-Ply
*H.P. REQUIREMENTS (min)
185-210
WEIGHT (lbs)
4,700 - 6,700
DIMENSIONS 
WIDTH (no markers)
16' 3"-19'
WIDTH (markers)
16' 3"-19'
WIDTH (transport)
21'
LENGTH (transport)
5' 2"
CLEARANCE (transport)
depends on tractor hitch
HEIGHT (transport)
8' 7"
OPENER INFO 
OPENER SERIES
25 Series
OPENER DOWN PRESSURE
250-500 lbs
OPENER TRAVEL (up-down)
10"
OPENER DEPTH RANGE
0-3.5"
CAPACITIES 
SEED CAPACITY
48 bushels
FERTILIZER CAPACITY
N/A