Kuhn DOMINATOR 4855-9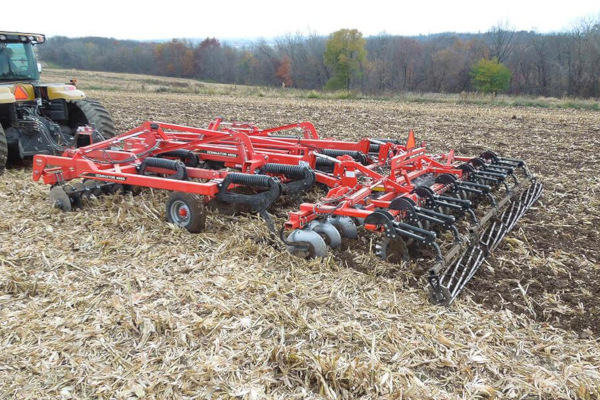 Double tap to zoom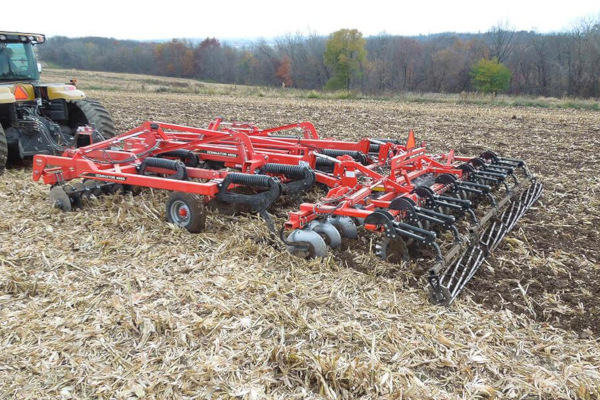 Features
Residue Management
Coulters
The Dominator® 4855 coulter module features ultra-large 25" diameter coulters on 9" spacing for improved residue cutting versus discs. An innovative live hydraulic down pressure system allows the operator to set down pressure to match conditions. With constant down pressure the coulters automatically seek the depth that provides optimal cutting resistance. Coulter gangs are mounted with Rock-Flex bearing arms for added protection. Coulters feature PEER® TILLXTREME™ maintenance-free bearings.
Shank Spacing
A split-the-middle shank pattern is achieved with two ranks of shanks on 18" spacing, none closer than 36" on the same beam. This provides maximum soil fracture and non-stop operation in heavy residue.
Fracture
Shanks
Choose from all deep-till parabolic shanks, a combination of deep-till and heavy-duty chisel shanks or all heavy-duty chisel shanks, depending on your agronomic needs.
Double K™ Points
Double K ripper points double the wear life of prior KUHN Krause Dominator fabricated steel and carbide-capped ripper points. Solid casting increases durability in rocky conditions. Choose between the 26.5-pound, 7" wing ripper point and the 22-pound, 2.5" straight ripper point.
Quality Finishing
Rear Disc Conditioner
The Dominator® 4855 disc conditioner system is hydraulically adjustable to meet varying surface residue requirements. Front blades are 24" diameter smooth disc blades on 18" spacing and rear blades are 24" diameter fluted blades on 12" spacing to reduce clod size and level soil.
Maintenance-Free Bearing Assembly
Discs feature individual Rock-Flex mounts for protection with rear mounts reversed to shed residue for superior performance even in heavy residue conditions. Sealed, angular contact, maintenance-free bearings and a machine-forged spindle with 5-bolt pattern allowing for fast and easy service.
Heavy-Duty 24/7® Conditioning Reel
Choice of heavy-duty round bar or heavy-duty flat bar reel with Peer® TillXtreme™ maintenance-free bearing assemblies mounted on heavy-duty ductile cast bearing arms provides aggressive clod sizing and soil firming.
Specifications
| | |
| --- | --- |
|  Model | 4855-9 |
| Transport Width (ft/m) | 15'9" / 4.8 |
| Transport Height (ft/m) | 6'6" / 1.9 |
| Frame Type | Rigid |
| Number of Shanks | 9 |
| Shank Spacing (in/cm) | 18 / 46 |
| Coulter Blade Spacing (in/cm) | 23-Sep |
| Working Width (ft/m) | 13'6" / 4.1 |
| Approximate Shipping Weight Less Reel Option (lb/kg) | 15,162 / 6 877 |
| Approximate Shipping Weight with Reel Option (lb/kg) | 16,105 / 7 305 |
| STANDARD EQUIPMENT |   |
| Hitch Type | CAT IV Articulating Ball Hitch for 2" Pin |
| Tongue Type | Mechanical Adjustable, Self-Leveling Tongue |
| Depth Control | Single Point Hydraulic Depth Control |
| Hydraulics | Cylinders with Royal Plate Plus®, Color Coded Hydraulic Hose Grips, All Hydraulic Hoses |
| Coulter Blades | 25" x 1/4" Smooth |
| Coulter Gangs | 9 inch spacing, Adjustable Constant Flow Hydraulic, Heavy-Duty 6" Bell Diameter Ductile Iron Spools, 1-3/4" Diameter Round Alloy Tie Rod with Maintenance-Free PEER® TILLXTREME™ Bearings, C-Type Rock-Flex Bearing Arms 1-1/4" x 2-1/2" |
| Shanks | Combination (5) Spring Reset Parabolic Sub-soil shanks, 3000lb Point Load, 1-1/4" x 4" Shank with Wear Bar, 22" Trip Height, 39" Underframe Clearance, 16" working depth and (4) Heavy Duty Chisel Shanks, 1200lb point load, 1-1/4" x 3" Shank with Wear Bar, 21" Trip Height, 37" Underframe Clearance, 12" Working Depth |
| Points | Double K™ Cast Chromium Carbide, 7 inch Wing, Ripper Point |
| Main Frame Wheels | Four 12.5L x 16 14ply, Walking Beams, Slip-In Spindles 8-Bolt Heavy Duty Hubs |
| Wing Frame Wheels | Not Applicable |
| Hydraulic Controlled Rear Disc Conditioner | Front Beam: 24" x 6 gauge, Smooth Shallow Concavity Disc Blades, 18" Blade Spacing |
|   | Rear Beam: 24 x 6" gauge, Fluted Disc Blades, 12" Blade Spacing, Off Set Design |
| Transport Locks and Safety | Hydraulic Valves, Transport and Wing Fold, Slow Moving Sign, High-Visibility LED Lighting |
| OPTIONAL EQUIPMENT |   |
| Hitch Type | CAT III Articulating Ball Hitch for 1-1/2" Pin |
| Tongue Type | Guardian Hitch™ (Cushion Tongue) |
| Shanks | All Shear Bolt Sub Soil Shanks - 1-1/4" x 4" Shank Size with Wear Bar, 39" Underframe Clearance, 16" Working Depth |
| Shanks | All Spring Reset Sub-Soil Shanks 3,000 lb Point Load, 1-1/4 x 4" Shank Size with Wear Bar, 21" Trip Height, 39" Underframe Clearance 16" Working Depth |
| Shanks | Combination (5) Shear Bolt Parabolic Sub-soil shanks, 1-1/4" x 4" Shank with Wear Bar, 39" Underframe Clearance, 16" working depth and (4) Heavy Duty Chisel Shanks, 1200lb point load, 1-1/4" x 3" Shank with Wear Bar, 21" Trip Height, 37" Underframe Clearance, 12" Working Depth |
| Shanks | All Heavy Duty Spring Reset Chisel Shanks - 1,200 lb Point Load, 1-1/4" x 3" Shank Size with Wear Bar, 20" Trip Height, 39" Underframe Clearance 12" Working Depth |
| Points | Double K™, 2-1/2" Cast Chromium Carbide, Straight Ripper Point |
| Tires | 360/65 R17.5 High Floatation Tires, 8 Bolt Heavy Duty Hubs |
| Residue Manager | 15" Diameter, Individually Mounted Residue Wheels |
| Rear Conditioning Reel | 24/7® Soil Conditioning with Float Position, Heavy-Duty Flat Bar Spiral Reels, PEER® TILLXTREME™ Maintenance-Free Bearings |
| Rear Conditioning Reel | None |
| Rear Attachment | Rear Hitch Attachment for Use on Machines Without 24/7® Soil Conditioning Reel |
| OPERATING INFORMATION |   |
| Recommended Tractor Power Range (PTO hp / kW) | 270 - 350 / 201 - 261 |
| Recommended Working Depth (in/cm) | 8 - 16 / 20.3 - 40.6 |
| Recommended Operating Speed (mph/km/h) | 4 - 7 / 6 - 12 |