Kuhn GA 3201 GM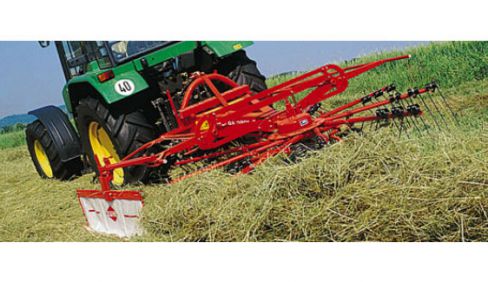 Double tap to zoom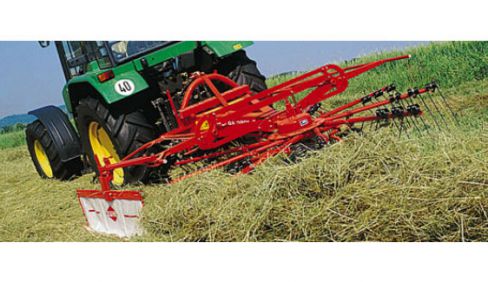 Features
No Maintenance Required
The tine arm drive components are housed in a fully enclosed gearbox, where they are protected from dirt and dust, and do not require any special maintenance. For additional durability, the tine arm holders are fixed on both the upper and lower gear case covers.
Superior Raking Quality
The rotary rake provides gentle and clean raking at all speeds to produce a fluffy windrow without roping. With faster operation and drying speed, you'll be able to put up a higher quality crop more quickly.
Increased Maneuverability
The nine tine arms of the GA 300 GM follow a cam profile that provides high clearance over the windrow. The pivoting headstock allows increased maneuverability and improved terrain following. The rake follows behind the tractor like a trailed rake when operating.
Simple Adjustments
Tine height and level are easily adjusted to best match the crop and field conditions. An adjustable screen allows for more precision of differing crop types and volumes.
Specifications
| | |
| --- | --- |
| Number of rotors | 1 |
| Working width (inches) | 10'6" |
| Working width (m) | 3.2 |
| Number of tine arms per rotor | 9 |
| Number of tines per arm | 3 |
| Linkage | 3-point - Cat. 1 + 2 |
| Minimum power requirement for PTO (kW) | 15 |
| Minimum power requirement for PTO (hp) | 20 |
| Weight (kg) | 372 |
| Weight (lb) | 820 |
| Clean swept width | 7'3" |
| Clean swept width (m) | 2.2 |
| Rotor diameter | 8'8" |
| Rotor diameter (m) | 2.6 |
| Transport width - arms removed | 5'5" |
| Transport width - arms removed (m) | 1.8 |