Kuhn GA 4220 TH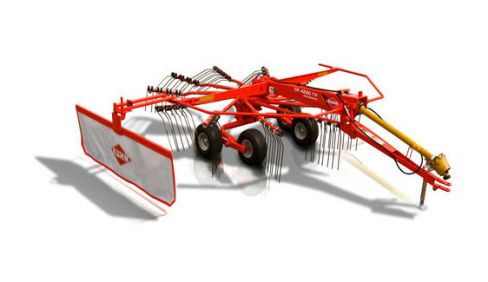 Double tap to zoom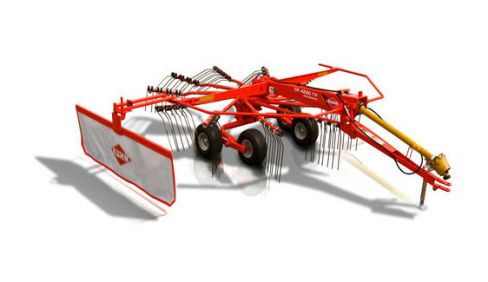 Features
Exclusive Swath Curtain Adjustment
A parallelogram linkage simultaneously moves the swath curtain to the rear as it is extended. This improves windrow formation and placement by ensuring that the curtain is always in the proper position relative to the crop.
Perfect Ground Following
Equipped with standard bogie axles, GA trailed rotary rakes are designed to handle uneven ground. They smooth out bumps and holes keeping the distance between the ground and tines constant. The close positioning of the wheels to the tines provides smooth operation. The ultimate benefit is high-quality forage and no crop loss, while working at higher speeds without sacrificing stability.
Pivoting Headstock
The pivoting headstock increases maneuverability and stability on uneven ground. It also provides added comfort during transport, increasing your safety and peace of mind.
Optimum Operator Comfort
Rake lift and lowering are controlled hydraulically from the tractor seat. Level lift provides maximum crop and windrow clearance in raised position.
Specifications
| | |
| --- | --- |
| Number of rotors | 1 |
| Maximum Windrow Width (feet) | 13'5" |
| Maximum Windrow Width (cm) | 410 |
| Working width - includes windrow (ft) | 13'5" |
| Working width - includes windrow (m) | 4.1 |
| Number of tine arms per rotor | 11 |
| Number of tines per arm | 4 |
| Tire type | Hyper balloons 18 x 8.50-8 |
| Bogie axle | standard |
| Transport width (m) | 3.4 |
| Transport width (feet) | 11' |
| Minimum power requirement for PTO (kW) | 22 |
| Minimum power requirement for PTO (hp) | 30 |
| Weight (kg) | 585 |
| Weight (lb) | 1290 |
| Clean swept width | 9'2" |
| Clean swept width (m) | 2.8 |
| Rotor diameter | 10'6" |
| Rotor diameter (m) | 3.2 |