Kuhn VS 135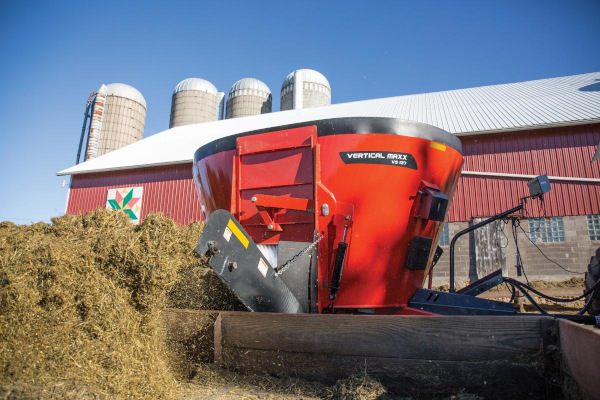 Double tap to zoom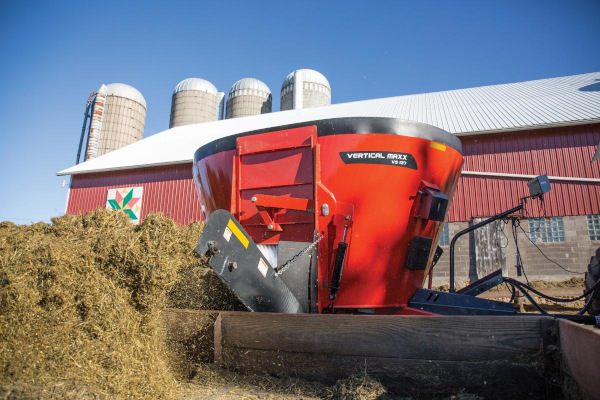 Features
Superior Feed Movement
Cone-Style Auger & Kicker Design
Cone-style augers provide superior feed movement for faster, more complete mixing and processing. The smooth, continuous auger flighting (1) creates a rolling feed action that improves mixing. The top cover of the auger has a steep angle to aid in bale movement when processing round bales and to prevent feed from sitting on top of the auger between mixes. The straight kicker (2) provides a fast and even discharge. Each lead flight is equipped with a cast iron, bolt-on scraper (3) that pulls material away from the tub walls into the auger for a better overall mix.
Hardened Knives
Large, 15" or 20", replaceable hay cutting knives are available to best handle the material to be processed. The knives have two positions to adjust the aggressiveness of the knife angle. Versatility of knife length, angle and position allow for an optimal setting with a wide variety of ration ingredients.
•A: Knife set in for slicing and cutting
•B: Knife set out for grabbing and tearing
Adjustable Hay Stops
The adjustable hay stops provide flexibility in processing to provide you with the cut length necessary to reach the optimal nutritional value you're striving for. This adjustability makes hay processing more efficient and helps minimize overprocessing.
Low Horsepower Requirement
The narrow auger design requires less horsepower, resulting in less fuel usage which helps you keep more of your hard earned dollars in your pocket.
Versatile Processing
Process and mix rations ranging from high percentages of hay, to low-cost alternate feedstuffs without worry. The cone auger and specially-designed unit shell allow processing of a variety of materials, even large round bales up to 5x6 in the VS 143.
Simple, Yet Dependable
Fully Welded Tub Design
The completely welded body provides superior strength and durability for long life without cracking at bolted joints. The reinforced floor and body help ensure dependable service and long life.
Large Discharge Doors
For unmatched feed flow, these mixers feature a large discharge door. The large openings also help ensure less binding when discharging high-roughage rations. Upgrades to the door pivot linkage allow for smooth operation of the door. The VS 100 Series includes a fixed slide tray, with magnets, incorporated into the door-frame design as standard.
Precise Feed Placement
Left, right, or left and right combination discharge options, standard with a fixed slide tray, are now available for greater versatility. The side door has been repositioned to enhance your ability to accurately place feed where you want it.
Simple, Dependable Drive
A planetary drive system provides simplicity for long life and heavy-duty use. The flooded top bearing eliminates the need for extra grease zerks. This proven and rugged drive system, coupled with an external oil reservoir, is virtually maintenance free, with the exception of scheduled gear lube changes.
Stationary Models Available
Make the Most out of Your Mix
For operations looking to maximize feeding efficiency and mixer throughput, the VS 100 Series single-auger mixers are also available in a stationary configuration. Stationary mixers are ideal for producers with a centralized feeding location, who utilize a mobile feed delivery system such as conveyors or feed carts. Stationary mixers share the same cone-shaped augers, large unloading doors and fully welded tub design, similar to their trailer counterparts.
Multiple Power Package Options
The VS 100 Series stationary models include a manual shift, 2-speed gearbox for high and low settings, along with the pulley and motor mount. For single motor options, required horsepower depends on the mixer capacity and load size. For reduced amperage draw at startup or for customers on a single phase power, a double mounting option is also available.
Specifications
| | |
| --- | --- |
| Specifications | VS 135 |
| Capacity - no extensions (m3) | 9.9 |
| Capacity - no extensions (cu.ft) | 350 |
| Number of augers | 1 |
| Overall height - no extensions (cm) | 257 |
| Overall height - no extensions (in) | 101 |
| Overall width - without options (cm) | 254 |
| Overall width - without options (in) | 100 |
| Tread width (cm) | 208 |
| Tread width (in) | 82 |
| Weight (kg) | 2586 |
| Weight (lb) | 5700 |
| Drive | Planetary |
| PTO speed (rpm) | 540 |
| Minimum power requirement for PTO (kW) | 56 |
| Minimum power requirement for PTO (hp) | 75 |
| Maximum load (kg) | 3969 |
| Maximum load (lb) | 8750 |
| Door opening (h x w, cm) | 91x99 |
| Door opening (h x w, in) | 36x39 |
| Auger Diameters (cm) | 218 |
| Auger Diameters (in) | 86 |