New Holland Flexi-Coil® P3440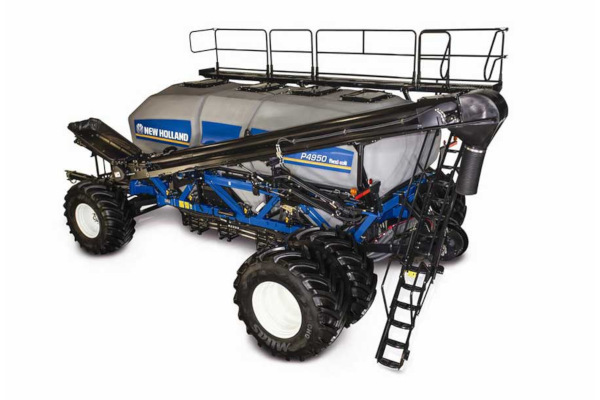 Double tap to zoom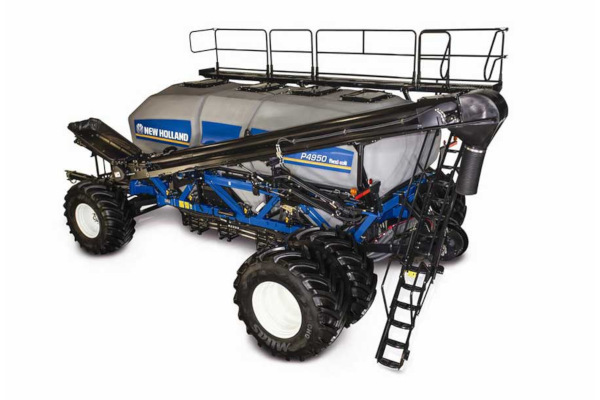 Features
INNOVATIVE, ACCURATE AND EXCLUSIVE METERING SYSTEM
LEADING METER CONTROL AND ACCURACY
You have one chance to get it right. For peace of mind, depend on the reliability and accuracy of Flexi-Coil air carts with industry-leading, multi-patented meter control.
IMMS: INTELLIRATE™ MODULAR METERING SYSTEM
The exclusive, patented IntelliRate™ modular metering system offers industry leading product metering. The system allows you to use one meter roller for all crops with the ability to change meter cartridges if required with product in the tank.
TESTED IMMS DURABILITY
The IMMS system is engineered for the long haul. We performed rigorous and repetitive testing both in the laboratory and in the field to ensure you receive many years of maintenance-free operation. IMMS system durability was put to the test over many years and acres using different products, in different environments and temperatures for your peace of mind.
STANDARD-EQUIPPED VARIABLE RATE APPLICATION CONTROL
For maximum precision, you can vary application rates using pre-loaded prescription maps to better manage field variability. GPS position is communicated to the rate controller which varies application rates by zone, based your prescription map criteria.
ULTIMATE IN BLENDING FLEXIBILITY: DISTRIBUTE OR COMBINE ANY TANK TO ANY RUN
Your new P Series air cart gives you the ability to apply seed, fertilizer or granular products in a single pass. Each primary run on the IntelliRate™ Modular Metering System (IMMS) operates using patented, independent, 24-volt electric-drive motors with integrated controls that provide the flexibility to accurately apply product in either single-shoot or double-shoot applications. This modular system can distribute and combine any tank to any primary run.
INDUSTRY-LEADING TYPE B DISTRIBUTION SYSTEM FOR UNMATCHED ACCURACY
With primary product division at the meter box, and secondary division on the drill, the Flexi-Coil® system provides unmatched accuracy and the preferred delivery system for air cart applications.
EZ FLOW HEADERS
EZ Flow distribution headers can significantly increase yields by providing unbeatable product flow and gentle seed handling, guiding seeds through primary and secondary lines and reducing seed cracking or scarring for better germination and higher yields.
SINGLE-SHOOT DELIVERY
Single-Shoot means one or more products mixed together in a single distribution system and applied in one zone. The most common combinations are applying seed alone, or applying a mixture of seed and fertilizer. Applying two types of fertilizer and blending them together while banding is also called single-shoot.
DOUBLE-SHOOT DELIVERY
For double-shoot delivery, products are placed separately in two zones. By adding a second distribution system, two products can be placed in different zones. Applying fertilizer below and to the side of the seed row is a common double-shoot application.
EXPANDED RATE RANGE WITH INCREASED ACCURACY
We've expanded your choice of application rates, so you can set the ideal match for your needs today and tomorrow. In fact this expanded range represents 15% higher and lower rates as compared to an equally configured P1000 Series cart. The IntelliRate™ Modular Metering System combined with dual product fans raise this bar to an all new level with unmatched capacity combined with industry leading accuracy. The exclusive patent-pending design allows for the same meter to be used for all product types. There are three meter cartridges that can be quickly changed to accommodate various products and rates.
Specifications
| | |
| --- | --- |
| Model | Flexi-Coil® P3440  |
| GENERAL |   |
| Compartments | 3 |
| Chassis | Durable High Strength Frame with Powder Coat Paint Finish |
| Configuration | Tow-Behind/Tow-Between |
| Main Tank Material | Polyethylene Roto-molded |
| Auxiliary Tank Material | N/A |
| CAPACITY |   |
| Total, bu. (Liters) | 435 (15329) |
| Tank 1 , bu. (Liters) | 140 (4933) |
| Tank 2 , bu. (Liters) | 105 (3700) |
| Tank 3 , bu. (Liters) | 190 (6695) |
| Auxiliary Tank, bu. (Liters) | N/A |
| PRODUCT DELIVERY |   |
| Type | Type B system - Primary division at meter and secondary division on seeding implement |
| Meter Drive System | Intellirate™ Modular Metering System - IMMS |
| Variable Rate Metering | Standard Equipped |
| Single Shoot | - |
| Double Shoot (Optional) | - |
| Sectional Control | Optional 8 run/Expandable up to 12 run |
| ELECTRONICS |   |
| Monitor System | IntelliViewTM IV or ISO 11783 (ISOBUS Compliant) Display is required for operation |
| Bin Level Sensors | Standard |
| Tank Pressure Sensors | Optional |
| In-Tank Cameras | Optional |
| Rear-view Camera | Optional |
| Wireless Conveyor Control | N/A |
| AUXILIARY TANK FILL SYSTEM |   |
| Pneumatic Fill | N/A |
| MAIN TANK FILL SYSTEMS |   |
| Standard Auger | N/A |
| Deluxe Auger | Standard |
| Conveyor | N/A |
| TIRES |   |
| Base Front | 500/50R17 149D I2 Dual castor |
| Front High Float (Optional) | 600/40-22.5 16PR I3 Dual castor |
| Base Rear - TBH | 650/75R38 172A8 R-1W Single |
| Rear High Float - TBH (Optional) | 650/75R38 172A8 R-1W Dual |
| Base Rear - TBT | 800/65R32 167A8 R-1W Single |
| Rear High Float - TBT (Optional) | 650/75R38 172A8 R-1W Dual |
| WEIGHT AND DIMENSIONS (BASE EQUIPPED) |   |
| Height | 186 (4729) |
| Height (Platform Railing Down) | 154 (3915) |
| Width | 221 (5624) |
| Tow-Behind Length | 303 (7708) |
| Tow-Between Length | 417 (10580) |
| Weight Tow-Behind empty, lbs. (Kg) | 16,330 (7407) |
| Weight Tow-Between empty, lbs. (Kg) | 16,130 (7316) |