New Holland Rustler 850 2-Passenger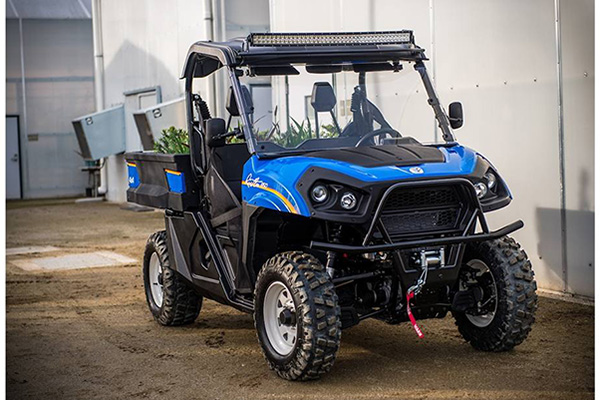 Double tap to zoom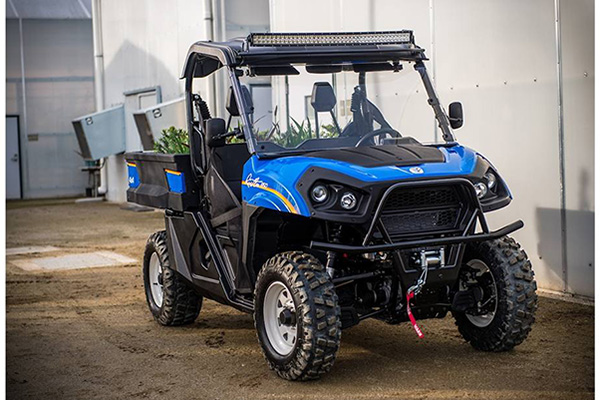 Features
POWER
Power for what you need. And for what you want. The new Rustler™ is equipped with a precision-tuned 62-hp EFI engine and was designed from the ground up to meet strict standards in terms of durability and performance. The Rustler also comes standard with Electronic Power Steering and four-wheel hydraulic disc brakes with dual piston calipers to help harness that power.
Engine Highlights
62-hp, 846cc gas EFI engine
Single overhead camshaft (SOHC)
Liquid-cooled 4-stroke, twin cylinder
55.3-ft-lb of torque at 62HP to promote acceleration, hill climbing and towing
Forged internals for durability
Dry sump oil system to provide consistent lubrication and protection
PERFORMANCE
Performance Driven Features The Rustler features on-demand all-wheel drive (AWD), electronic power steering (EPS), and four-wheel double A-Arm suspension to power through dirt, mud, and sand. Front and rear sway bars come standard for increased traction and improved handling on off-road terrain. Equipped with dual rate springs, the Rustler allows a high load capacity without compromising ride quality, delivering one of the smoothest rides in its class.
Performance Highlights
EPS standard
On-demand AWD
Four-wheel double A-arm suspension
Front and rear sway bars for increased traction and improved handling
Four-wheel hydraulic disc brakes with dual pistons for extra stopping power
Spooled and selectable locking rear differential to selectable locking differential
DRIVE EXPERIENCE
Driver Experience
A little added comfort goes a long way whether you're spending a day on the job or out on the trail. The Rustler™ was built with the driver and occupant's comfort and ride quality in mind.
Ride Comfortably
10-sq-ft opening for easy entry/exit
Spacious interior
Contoured bench seat
Tilt steering wheel
Industry's largest 5.25 inch x 3.25 inch LCD display screen with on-board diagnostics
Specifications
| | |
| --- | --- |
| Rustler 850 2-Passenger |   |
| BODY & FRAME |   |
| Frame | Structurally Welded High Strength Steel |
| Finish | E-Coat Base & Powder Coat Top Black |
| Standard colors | New Holland Blue |
| DIMENSIONS |   |
| Overall length | 129 in (327.6 cm) |
| Overall width | 61 in (154.9 cm) |
| Overall height | 75 in (190.5 cm) (w/o Roof) | 76.5 in (194.3 cm) (w/ Roof) |
| Overall weight | 1650 lbs (748.4 kg) Dry | 1690 lbs (766.5 kg) Curb |
| Wheelbase | 85.2 in (216.4 cm) |
| Ground clearance | 11.25 in (28.6 cm) |
| Cargo bed | 40" x 48" x 10.8" (101.6 x 121.9 x 27.4 cm) |
| Hitch | Standard 2" Receiver |
| ENGINE & DRIVETRAIN |   |
| Battery | Single 12V Starter |
| Engine type | Liquid-Cooled 4-Stroke, Twin Cylinder Single Overhead Cam, Gas Engine |
| Horsepower | 62HP (46.2kW) |
| Transmission | CVT |
| Displacement | 846cc |
| Fuel system | Electronic Fuel Injection |
| Fuel capacity | 9.5 Gal. (36.0 L) |
| Gear selection | Dash-Mounted Cable Shifter (H,L,N,R,P) |
| Front differential | Automatic Locking Overrunning Clutch |
| Rear differential | Selectable Locking |
| PERFORMANCE |   |
| Total capacity* | 1500 lbs (680 kg) |
| Bed load capacity* | Max 1000 lbs (453.6 kg) |
| Seating capacity | 2 Person |
| Towing capacity | 2000 lbs (907.2 kg) |
| STEERING & SUSPENSION |   |
| Steering | Rack & Pinion/ Electronic Power Assist |
| Front suspension | Double A-Arm with 9.3-in (23.6 cm) Travel, Performance Shocks |
| Rear suspension | Dual A-Arm 10.4-in (26.4 cm) Travel, Performance Shocks |
| Brake system | 4-Wheel Hydraulic Disc Brakes with 9-in (228.6 mm) Rotors, Dual Piston Calipers |
| Parking brake | Park in Transmission |
| Tires | 26 x 9-14, Kenda All Terrain Tires (Front), 26 x 11-14, Kenda All Terrain Tires (Rear) |
| Wheels | Stamped Steel |
| FEATURES |   |
| Instrumentation | Backlit LCD, 12V Outlet, USB |
| Headlights | Halogen Module Driving Lights by Hella™ |
| Seating | Contoured Bench Seat |
| Safety | 3-Point Seat Belts (2 Front), Seat Belt Rev Limiter, Steel Tube ROPS, Front Mounted Steel Brush Guard, Passenger Grab Handle, Headlights, Brake Light |