Grasshopper 932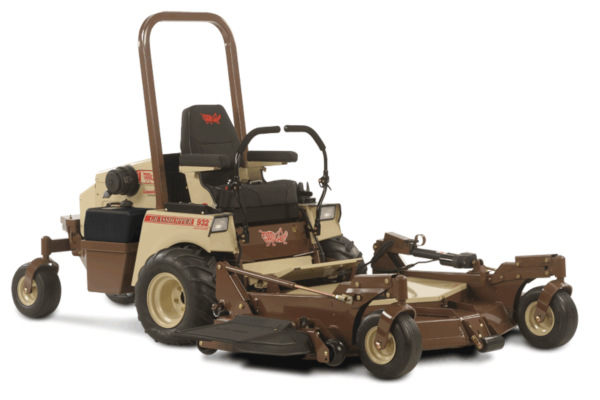 Double tap to zoom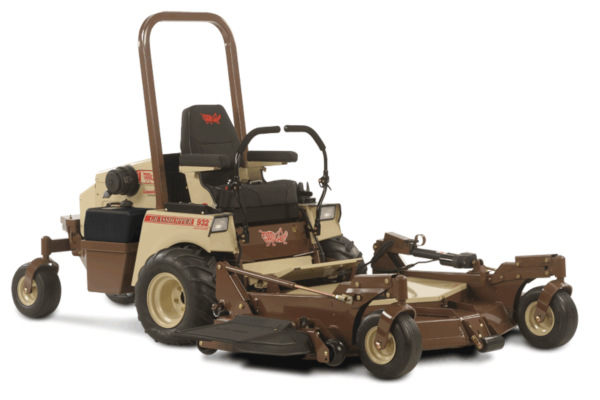 Features
QuikConverter™ Implement Capability
Add or remove implements in minutes without tools with QuikConverter™ Implement System
Equip your out-front mower with a wide range of tools, including turf cleanup, renovation and snow removal implements that extend your productivity year-round
Design-Matched G2 Transmission
Rugged G2 transmission with auxiliary cooling fans, HydroGear variable displacement 21 cc piston-type pumps and high-torque Parker wheel motors
CoolFan™ hydro cooling system with 7-micron absolute filter for cooling efficiency
Delivers smooth response and requires less maintenance, with industry-leading 1,000-hour fluid change interval
Minimal Maintenance
Fewer than 10 grease points and easy top-side access to belts and filters
1,000-hour transmission fluid change intervals
Self-tensioning belts minimize cost and labor on routine maintenance
Built for Long Life
Robotically-welded, high-grade steel construction and I-beam reinforcement for long-lasting durability
Centered-bearing design provides greater load-bearing capacity to easily handle the weight of operator, fuel and high-capacity collector with reserve strength for curb shocks and weight shifts
Tough-as-nails powder-coated finish is fusion-bonded for chip and rust resistance
Vigilant Operator Presence System™
Standard, low profile Roll-over Protection System (ROPS) structure with an adjustable seatbelt
Dampened steering levers that return to neutral from forward and reverse
Interlock switches that shut down the engine when the operator leaves the seat while PTO is engaged or levers are in drive position
Wide Stance Single-Fork Tail Wheels
Wide stance single-fork tail wheels provide increased flotation and stability for a smoother ride.
Ultimate Operator Station®
ComfortZone™ seat eliminates jostles and jolts with coil-spring suspension and a fully padded, high-back seat, padded armrests and variable density foam cushion. Iso-mounting smooths the ride, erases fatigue and keeps the operator comfortably in control at faster mowing speeds
Operational controls including throttle, choke and angled View-Eze™ console and adjustable cup holder are well positioned for visibility and ease of reach
One- or two handed operation with QuikAjust Tilt™ dual levers with 9-inch comfort range to custom fit operator's reach. Levers automatically return to neutral from either forward or reverse position and are less strenuous than riding mowers with steering wheels.
Heavy-duty Deck
Extra-deep, 5.5-inch deck is fabricated from heavy-gauge formed steel with a reinforced anvil edge
Specially designed cutting chambers enhance airflow for better cut quality
Deck easily converts from side discharge to optional Down Discharge™ mulching or PowerVac™ collection
Sentry™ spindles with massive, 8-inch flanges anchored in a 6-bolt pattern, spread the force of impact for greater strength
Spindle planes are fabricated from double-layered formed steel laminate and combine with the spindles to form a triple-strength deck to keep blades level and deliver a high-quality cut.
Sentry™ spindle guards shield spindle housing and seal lower bearings from fiber wrap and dirt ingestion
PowerFold® Electric Deck Lift
Standard on all FrontMount™ DuraMax® decks 48-inch and larger, PowerFold® is the zero-turn mower industry's first electric deck lift (introduced in 2004).
PowerFold® rotates the deck nearly 90 degrees to provide easy access to the underside of the deck for simplified maintenance and mulching package installation, plus space-saving portability and storage.
The feature also adjusts cutting height between 1.0 and 5.0 inches and controls deck lift functions using a single switch.
Hydraulic Lift
Hydraulic Lift raises the front of the deck to maneuver over soft or uneven ground and to clear curbs, trailer ramps and other obstacles, operated by a lift switch on the steering lever.
High Temperature Clutch Cut Out
Equipped with a High Temperature Clutch Cut-Out that automatically disengages the PTO if engine temperature reaches a certain point to prevent engine damage
Kubota MaxTorque™ Gasoline
962 cc, 3-cylinder, liquid-cooled Kubota MaxTorque™ gasoline engine with horizontal crankshaft and pressure lube for smooth, reliable operation
LED Work Lights
LED work lights provide improved visibility in low light situations.
Specifications
| | |
| --- | --- |
| Specifications | Model 932 |
| ENGINE |   |
| Type/Horsepower/Cylinders | Kubota, MaxTorque™, 3-cyl. |
| Displacement | 58.7 cu. in. (962 cc) |
| Lubrication System | Pressure Lube/Filter |
| Crankshaft | Horizontal |
| Cooling System | Liquid |
| Fuel | Gasoline - unleaded |
| Fuel Capacity | 7.2 U.S. Gal. (27.3 l) |
| Optional Fuel Capacity | NA |
| Air Cleaner | Heavy-duty, remote mounted with replaceable dual elements and filter minder. |
| Muffler | Ultra quiet, single, industrial type |
| DURAMAX® DECKS |   |
| DECK | DuraMax |
| Mulching Package # | 504567(52), 504569(61), 504571(72) |
| DURAMAX®; DECK SIZE |   |
| – 41" Deck | NA |
| – 42" Deck | NA |
| – 44" Deck | NA |
| – 48" Deck | NA |
| – 52" Deck | * |
| – 61" Deck | * |
| – 72" Deck | * |
| CUTTING HEIGHT RANGE | 1.25 to 5.0 in. (3.2 cm to 12.7 cm) |
| CONSTRUCTION (Robotic-welded steel) | Tubular 2.25 in. x 4 in. boxed members with 0.25 in. gussets. Formed double thickness hardened steel (0.269 in. 7.6% thicker than 0.25 in. (6.35 mm)) truss spindle plane and (3) Sentry™ spindles and a triple-strength upper deck, 1/2 inch thick in st |
| BLADES (Tempered, alloy steel) |   |
| – 41" Deck | NA |
| – 42" Deck | NA |
| – 44" Deck | NA |
| – 48" Deck | NA |
| – 52" Deck | (3) 18 in. (45.7 cm) |
| – 61" Deck | (3) 21 in. (53.3 cm) |
| – 72" Deck | (3) 25 in. (63.5 cm) |
| SPINDLE ASSEMBLIES | Sentry™ Spindle System, 2.5 cm (approx. 1 in.) O.D. shaft. Double bearings greasable from top of deck. Spindle head designed to eliminate fiber wrap. Spindle cones shield housing and lower bearings from fiber wrap and dirt ingestion. |
| SPINDLE HOUSINGS | 8 in. (20.3 cm)-diameter housing. Machined aluminum housing on 52- and 61-inch deck. Cast iron on 72-inch deck. |
| BLADE DRIVE | Maintenance-free gearbox with single Kevlar V-belt and idler arm tensioning. |
| TRIMABILITY (Outside of std. tire to left trim side) |   |
| – 41" Deck | NA |
| – 42" Deck | NA |
| – 44" Deck | NA |
| – 48" Deck | NA |
| – 52" Deck | -0.5 in. (-1.3 cm)*** |
| – 61" Deck | 7.0 in. (17.8 cm)*** |
| – 72" Deck | 12.25 in. (31.1 cm)*** |
| STARTER & ELECTRICAL SYSTEM |   |
| Battery (maintenance-free) | 12 Volt |
| Starter | Solenoid shift |
| Ignition | Breakerless |
| Interlock System | Prevents engine start when PTO clutch is engaged or steering levers are in drive position. Allows operator dismount without engine shutdown only when PTO is disengaged and steering levers are locked in neutral. |
| ULTIMATE OPERATOR STATION |   |
| Seat | Ultimate Suspension Ride (USR), embroidered logo, iso-mounted, high-back, deep-cushioned, foam-padded CoolTemp Cordura-covered, padded arms/backrest with lumbar support and coil-spring suspension. Optional CoolTemp Cordura-covered premier suspension seat. |
| Suspension | InFrame™ suspension |
| Console-mounted Instruments | Low engine oil pressure and parking brake warning lights, digital hour meter, work lights, ignition and push/pull PTO switches. Choke integrated with throttle lever. |
| Work Lights | Standard - LED |
| Hour Meter | Standard |
| TRANSMISSION & STEERING |   |
| Type | Rugged, design-matched G2 hydrostatic system with auxiliary cooling fans, HydroGear variable displacement 21 cc piston-type pumps and Parker/Ross wheel motors. |
| Filtration/Hydro Fluid |  Integrated, replaceable, high-efficiency, fine-particle filter / Grasshopper CoolTemp Hydro-Max™ fluid withstands high and low temperature extremes for 1,000 hour change intervals. |
| Speed | 0 - 11.0 mph (0 - 17.7 kph) forward 0 - 6.0 mph (0 - 9.7 kph) reverse |
| Turning Radius | True zero degree, turns within own length with counter-rotating, independently powered drive wheels. Seat is pivot point. |
| Steering | One- or two-hand operation with adjustable, Hydra-Smooth™, dual levers that automatically return to neutral from either forward or reverse position. |
| Brakes | Dynamic braking through hydrostatic transmission. |
| Parking Brake | Disc parking brakes, one for each drive wheel. |
| Attachment Drive | Telescoping PTO shaft with two high-speed U-joints, Quik-D-Tatch® coupler and heavy-duty electric Mag Stop® blade clutch/brake. |
| TIRE SIZES |   |
| FrontMount |   |
| Drive Wheels – Standard (4-ply rated) | 22x11.00x10 bar tread, high flotation, 4-ply rated |
| Drive Wheels – Optional (4-ply rated) | 22x10.00x10, turf tread, 4-ply rated |
| Single Tail Wheel | NA |
| Wide Stance Single Fork Tail Wheel | 13x6.50x6 rib tread, pneumatic (2) |
| Deck Tires (4-ply rated) |   |
| – 41" Deck | NA |
| – 42" Deck | NA |
| – 44" Deck | NA |
| – 48" Deck | NA |
| – 52" Deck | 9x3.50x4 (flat proof), 4-ply rated |
| – 61" Deck | 9x3.50x4 (flat proof), 4-ply rated |
| – 72" Deck | 13x6.50x6 rib tread, pneumatic, 4-ply rated |
| DIMENSIONS |   |
| Height (Seat Back) | 46.5 in. (118.1 cm) |
| Height (Seat Cushion) | 31.0 in. (78.7 cm) |
| Height (ROPS) | 69.0 in. (175.3 cm) |
| Length (FrontMount w/ DuraMax® Deck - Mowing Position) |   |
| – 41" Deck | NA |
| – 42" Deck | NA |
| – 44" Deck | NA |
| – 48" Deck | NA |
| – 52" Deck | 108.5 in. (275.6 cm) |
| – 61" Deck | 110.5 in. (280.7 cm) |
| – 72" Deck | 120.5 in. (306.1 cm) |
| Length (FrontMount Power Unit + DuraMax® Deck - Folded Up) |   |
| – 41" Deck | NA |
| – 42" Deck | NA |
| – 44" Deck | NA |
| – 48" Deck | NA |
| – 52" Deck | 91.5 in. (232.4 cm) |
| – 61" Deck | 94.0 in. (238.8 cm) |
| – 72" Deck | 107.0 in. (271.8 cm) |
| Deck Width (Side Discharge) |   |
| – 41" Deck | NA |
| – 42" Deck | NA |
| – 44" Deck | NA |
| – 48" Deck | NA |
| – 52" Deck | 65.5 in. (166.5 cm) |
| – 61" Deck | 74.5 in. (189.2 cm) |
| – 72" Deck | 85.5 in. (227.3 cm) |
| Deck Width (Mulch*) |   |
| – 41" Deck | NA |
| – 42" Deck | NA |
| – 44" Deck | NA |
| – 48" Deck | NA |
| – 52" Deck | 53.5 in.* (135.9 cm) |
| – 61" Deck | 62.5 in.* (158.8 cm) |
| – 72" Deck | 73.5 in.* (186.7 cm) |
| FrontMount PowerUnit Only (Width/Length) | 53.0 in. (134.6 cm)/70.0 in. (177.8 cm) |
| FrontMount Power Unit (Wheelbase) | 54.5 in. (138.4 cm) |
| WEIGHT - MidMount or FrontMount with DuraMax |   |
| (Uncrated) | NA |
| – 41" Deck |   |
| – 44" Deck | NA |
| – 48" Deck | NA |
| – 52" Deck | 1470 lbs. (666.8 kg) |
| – 61" Deck | 1520 lbs. (689.5 kg) |
| – 72" Deck | 1645 lbs. (746.2 kg) |
| FrontMount Power Unit Only (uncrated) | 1100 lbs. (499.0 kg) |
| FrontMount Deck Only - Side Discharge (uncrated) |   |
| – 41" Deck | NA |
| – 42" Deck | NA |
| – 44" Deck | NA |
| – 48" Deck | NA |
| – 52" Deck | 370 lbs. (167.8 kg) |
| – 61" Deck | 420 lbs. (190.5 kg) |
| – 72" Deck | 545 lbs. (247.2 kg) |
| Mulching Package |   |
| – 41" Deck | NA |
| – 42" Deck | NA |
| – 44" Deck | NA |
| – 48" Deck | NA |
| – 52" Deck | 29 lbs. (13.2 kg) |
| – 61" Deck | 37 lbs. (16.8 kg) |
| – 72" Deck | 50 lbs. (22.7 kg) |