Great Plains FH6630HD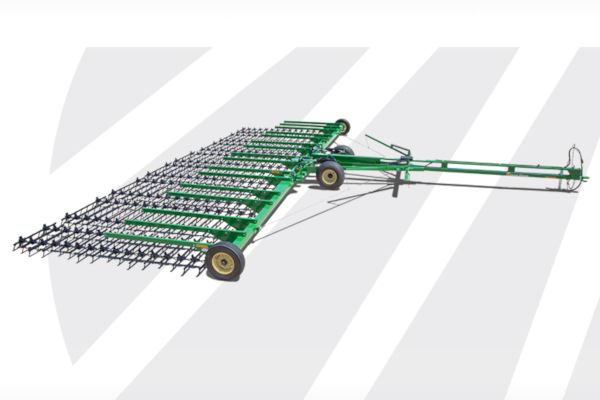 Double tap to zoom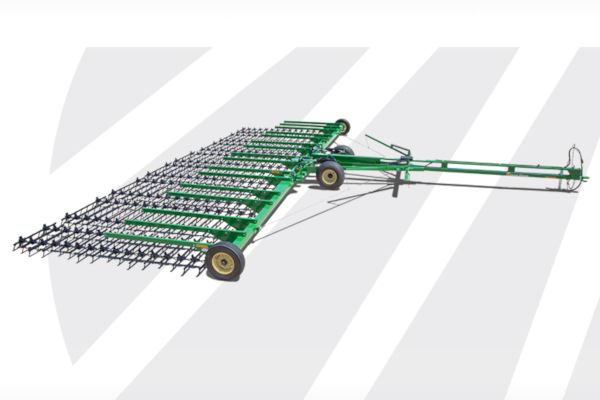 Features
TONGUE
Adjustable hitch heights. Tongue or clevis hitch helps maintain level profile and optimal hitch height.
FORGE HARDENED
Six-inch spike teeth on 9" spacing for longer lasting wear.
8-BOLT MAIN TRANSPORT HUBS AND NON-PUNCTURE AIRCRAFT TIRES ON WINGS
With heavy- built hubs, tires are designed to run longer in tougher conditions without skipping a beat.
1½" WING PIVOT PINS
Greasable wing pivot pins last longer and require less maintenance than competitors.
SINGLE HYDRAULIC CIRCUIT
Unit can be lifted and folded with one SCV control. Allows for unit to be pulled behind other tillage implements.
HEAVY-DUTY FRAME
Designed to handle even the toughest soil conditions, the Great Plains Flex Harrow's center frame is constructed of quarter-inch-wall steel, while its wing frames are built from 6" square tubing.
8-, 12-, AND 16-BAR TINE MODELS AVAILABLE IN 4-BAR SECTIONS
Choose the option ideal for specific field conditions and desired finish. Bar sections can be added or removed.
Specifications
| | |
| --- | --- |
| MODEL | FH6630HD |
| TIRES | 12.5Lx15 8-ply |
| WEIGHT (approx. lbs) | 5,000+ |
| PTO H.P. REQ (min) | 3-5 hp per foot |
| DIMENSIONS |   |
| TILLAGE WIDTH | 30' |
| TRANSPORT WIDTH | 12' 8" |
| TRANSPORT HEIGHT | 10' 10" |
| TILLAGE INFO |   |
| CENTER SECTION | 12' |
| 1ST WING SECTION | 9' |
| NO. OF FOLDING SECTIONS | 3 |
| NO. OF HARROW SECTIONS | 6 |