Great Plains 1206NT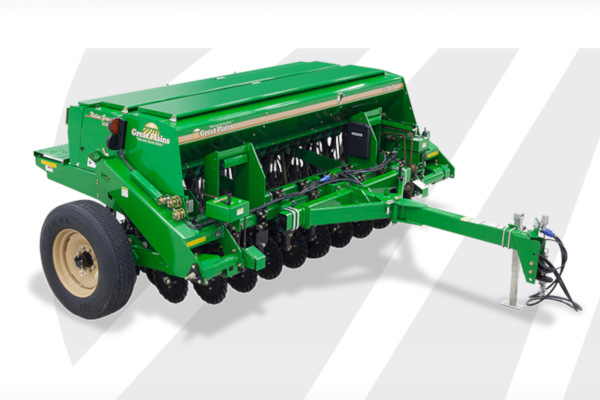 Double tap to zoom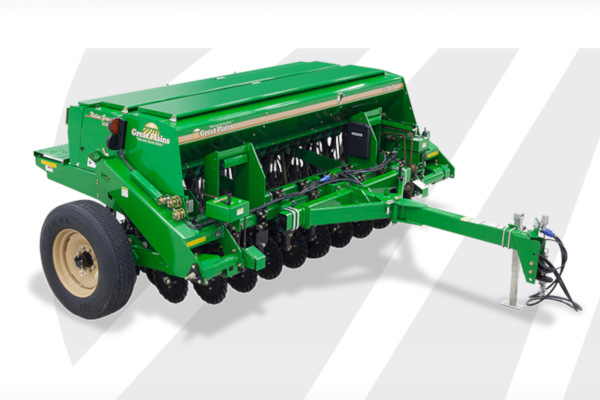 Features
MODULAR DESIGN ALLOWS UP TO THREE BOXES ON A UNIT
This allows three different seeds to be planted at separate rates and different depths at the same time. Optional boxes include native grass or fertilizer, and small seeds.
INTEGRATED WEIGHT BRACKETS
Allow you to easily add weight for better penetration in tough no-till conditions.
GREASE BANK
Lets you service all the coulter pivot components from two locations.
4-SPEED GEARBOX
Accurately set planting rates for everything from alfalfa to peas with the user-friendly 4-speed gearbox and adjustable fluted feed meters.
Specifications
MODEL INFO
12' END WHEEL NO-TILL DRILLS
MODEL
1206NT
TYPE
End Wheel Pull-Type
PRIMARY DESIGN
No-Till
ROW SPACINGS
7.5" (19.1cm)
NUMBER OF OPENERS
20, 19, 18, 14
TIRE SIZE
297/75R 22.5 Rib Truck Tires
H.P. REQUIREMENTS (min)
75+
WEIGHT (approx. range)
5,965
DIMENSIONS 
WORKING WIDTH
12' (3.66m)
WIDTH (transport)
15' 7" (4.74m)
LENGTH (transport)
13' 7" (4.14m)
CLEARANCE (transport)
13.5" (34.3cm)
HEIGHT (transport)
7' (2.13m)
OPENER SERIES
06 Series
COULTER
5/8" Turbo, 5/16" Fluted, 3/4" Wavy
CAPACITIES 
MAIN BOX CAPACITY
28.8 bu (1015L)
SMALL SEED BOX
2.62 bu (92.3L)
NATIVE GRASS BOX
12 bu (423L)
FERTILIZER
12 cu ft (.34m3)