Great Plains 2010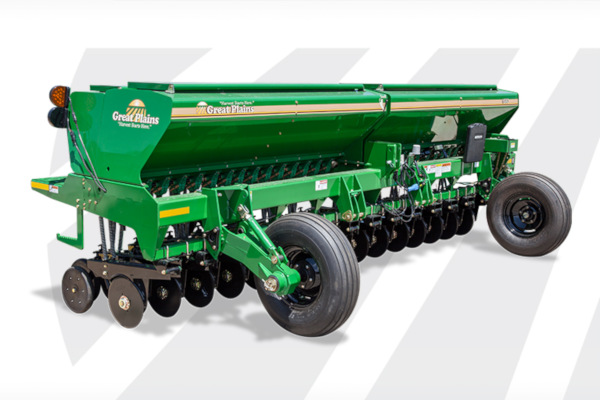 Double tap to zoom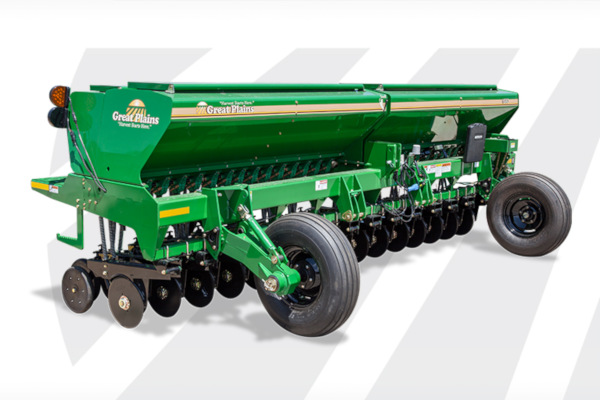 Features
STAGGERED OPENERS
All openers are staggered 7" for maximum residue flow. You can easily access the openers from the rear of the machine. Hence, no more climbing under the drill to make routine depth adjustments.
SMALL SEEDS BOX
Smaller version of the fluted feed cup precisely meters small seeds.
GAUGE WHEEL DRIVE
Ensures speed sensitive seed metering. Frame height is also controlled with these large rib implement tires.
FLUTED FEED CUPS
Provide gentle and even delivery of a wide variety of seed sizes and shapes.
FERTILIZER ATTACHMENT
Easy cleanout and six-point meter wheels accurately meter fertilizer.
T-DEPTH ADJUSTMENT
The exclusive T-handle depth control adjustment features 18 positions in 1/8" increments to set proper seed depth for almost any seed.
Specifications
MODEL INFO
12'-37' 3-POINT DRILLS
MODEL
2010
TYPE
3-Point Mounted
PRIMARY DESIGN
Min-Till (No-Till w/CPH or PFH)
ROW SPACINGS
7", 7.5"
NUMBER OF OPENERS
34-7 "
32-7.5"
TIRE SIZE
11Lx15
H.P. REQUIREMENTS (MIN)
250+
WEIGHT (APPROX. RANGE)
4,252-5,032 lbs (1,929-2,282kg)
DIMENSIONS
 
WORKING WIDTH
20'
WIDTH (TRANSPORT)
21'
LENGTH (TRANSPORT)
9' 9" (2.97m)
CLEARANCE (TRANSPORT)
depends on 3-point hitch
HEIGHT (TRANSPORT)
6' 2" (188cm)
OPENER SERIES
10 Series
COULTER
N/A
CAPACITIES
 
MAIN BOX CAPACITY
48 bu (1691L)
SMALL SEEDS BOX
4.8 bu (169L)
NATIVE GRASS BOX
N/A
FERTILIZER
20 cu ft (705L)