Great Plains PL5700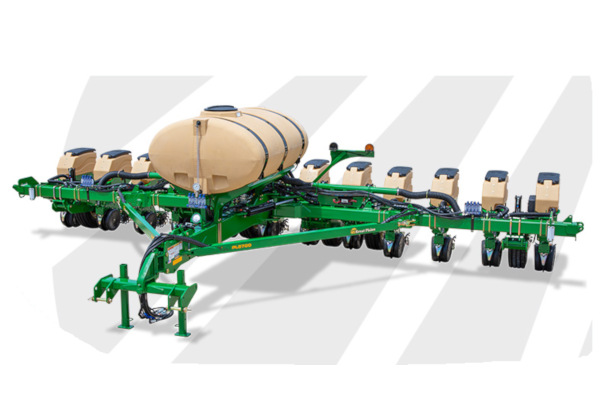 Double tap to zoom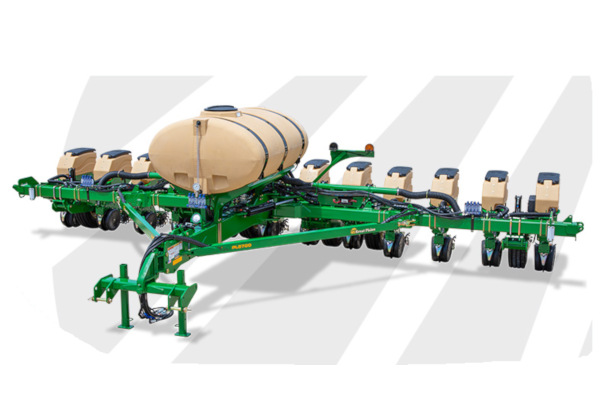 Features
Telescoping Tongue
The tongue retracts when unfolded to keep the planter closer to the tractor for increased maneuverability. The simple folding design lets the operator extend the tongue and lock the wings for transport.
Positive Air System
A dual-fan air system on bulk models and a newly-designed seed pickup system provide advanced delivery of many types of seed.
New 5000 Series Row Unit
New, shorter closing wheel mounts, available on select row spacings, achieve appropriate seed-to-soil contact and closing accuracy around curves and contours. Alongside the newly-designed meter, the new row unit provides excellent singulation and seed placement for a variety of crops.
Ground, Hydraulic, or IRC Drives
Choose IRC (Individual Row Control) for consistent, in-row seed spacing – even on tight turns; ground drive with a contact drive wheel; or hydraulic drive.
Choose Bulk Tanks or Hoppers
Bulk tank models include two 50-bushel tanks made of heavy-duty poly to hold 100 bushel of seed on-board. Also available are new 3-bushel individual hoppers (inset) with shock-assisted lids that make filling easy.
5000 Series Row Unit
The 5000 Series row unit utilizes ductile cast parallel arms for long-term row unit stability. 15", 4mm blades turning on 205 triple-lip seal bearings ensure long life and accurate seed depth. Blades are offset ½" to slice residue and form a perfect seed trench. Opener options include unit-mounted Turbo or fluted coulters, row cleaners, and seed firmers.
5000 Series Air Meter
Our new 5000 Series Air-Pro® Meter offers the highest level of singulation on the market today, and achieves uniform spacing by "dead-dropping" the seed into the trench.
Specifications
MODEL INFO
FRONT-FOLD PLANTER
MODELS
PL5700
TYPE
Front-Fold
ROW SPACING
30" / 12 rows
30" / 16 rows
H.P. REQUIREMENTS (min)
140+
190+
WEIGHT (approx. range)
12,150 lbs.
17,190 lbs.
DIMENSIONS
 
WORKING WIDTH
30'
40'
WIDTH (transport)
11' 11"
HEIGHT (transport)
11' 5"
CAPACITY
 
SEED CAPACITY
3 bu./row or two (2) 50-bu. tanks
FERTILIZER CAPACITY
600-gal. hopper; 400-gal. bulk