Great Plains YP2425A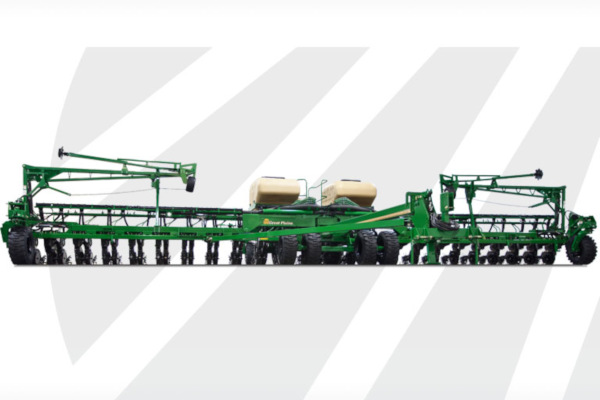 Double tap to zoom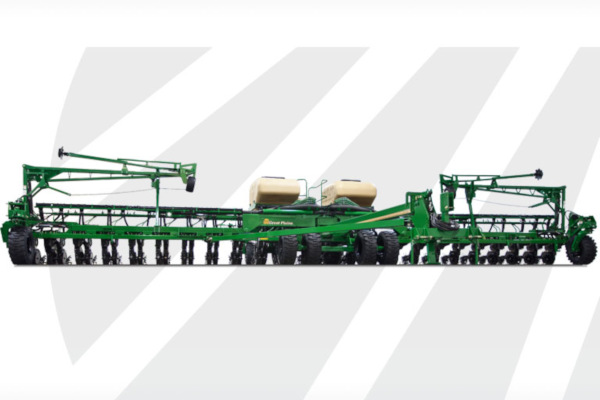 Features
TELESCOPING TONGUE
The telescoping tongue puts the planter closer to the tractor in field position, allowing tighter turning on end rows.
FERTILIZER CARTS (OPTIONAL)
Choose from three different optional fertilizer carts, available in 500-, 735-, or 1000-gallon (shown) configurations. All carts are 2-point mounted for excellent handling.
CENTRAL FILL
These units are fitted with two 82-bu. hoppers for maximum field efficiency, high productivity, and operator safety.
HEMP SEED DISC
New, 5-cell and 30-cell hemp seed disc that meters seed accurately.
CANOLA SEED DISC
Canola producers will appreciate the precise singulation and spacing accuracy delivered by the canola seed disc from Great Plains. The specially-designed disc is part of our already extensive list of Air-Pro® Meter Discs for seeding corn, soybeans, milo, sunflowers, cotton, wheat, and sugar beets.
Specifications
MODEL INFO
60' Bulk Yield-Pro Air-Pro
MODEL
YP-2425A
ROW SPACINGS / NO. OF ROW UNITS
TR30" / 48 rows
15" / 47 rows
20" / 36 rows
30" / 24 rows
TIRE SIZE
15-19.5 NHS 12-Ply
*H.P. REQUIREMENTS (min)
220-440
WEIGHT (lbs)
18,420 - 31,200
DIMENSIONS 
WIDTH (no markers)
60'
WIDTH (markers)
60'
WIDTH (transport)
15' 3"
LENGTH (transport)
49'
CLEARANCE (transport)
22"
HEIGHT (transport)
13' 2"
OPENER INFO 
OPENER SERIES
25 Series
OPENER DOWN PRESSURE
250-500 lbs
OPENER TRAVEL (up-down)
10"
OPENER DEPTH RANGE
0-3.5"
CAPACITIES 
SEED CAPACITY
Optional 82 bu Hoppers (2) or Seed Company Bulk Boxes (2)
FERTILIZER CAPACITY
Optional Starter Fertilizer w/2000 gallon cart, semi-mounted 1000 gal (SML-1000), semi-mounted 735 gal (SML-735), semi-mounted 500 gal (SML-500)