Great Plains PL5500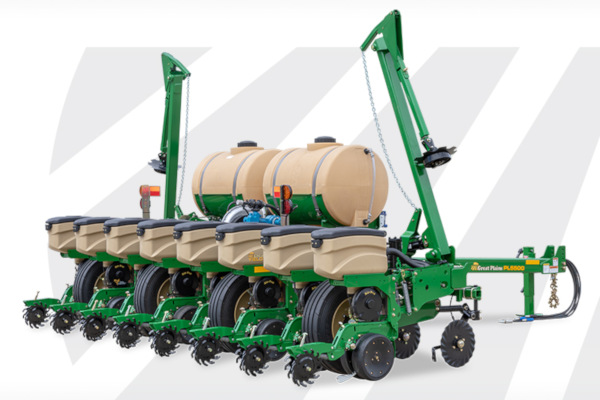 Double tap to zoom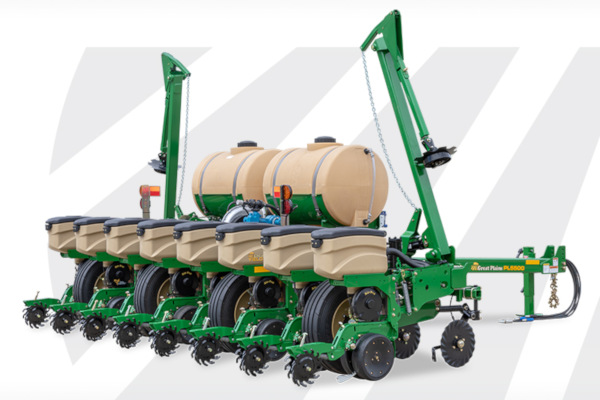 Features
New 5000 Series Row Unit
New, shorter closing wheel mounts, available on select row spacings, achieve appropriate seed-to-soil contact and closing accuracy around curves and contours. Alongside the newly-designed meter, the new row unit provides excellent singulation and seed placement for a variety of crops.
Narrow 9' 9" Transport
The narrow transport width offers producers increased maneuverability and easier road transport when moving from field to field.
Lower Horsepower Requirements
The PL5500 requires a lower horsepower (115-drawbar minimum) tractor with three selective control valves and 16 gallons (61L) per minute of flow, making it compatible with many tractors.
Liquid or Dry Fertilizer Options
Liquid or dry fertilizer systems place fertilizer in-furrow (liquid) or 2" (5cm) from the row (liquid and dry) with a fertilizer coulter or dribblers.
Hemp Seed Disc
New, 5-cell and 30-cell hemp seed disc that meters seed accurately.
Air-Pro® Meter with Optional Individual Row Control (IRC Electric Drive)
The new 5000 Series Air-Pro Meter offers industry-leading singulation with its simple, positive air pressure meter. Optional electric-drive Individual Row Control reduces maintenance by eliminating all chains and shafts, while the individual meter control saves seed through on-demand variable rate and row-by-row section control. IRC ensures equal seed spacing to maximize field potential, even when navigating curves and field contours. A larger meter seed pool keeps the meter full at higher speeds and provides excellent singulation for a wide variety of crops.
Specifications
MODEL INFO
FRONT-FOLD PLANTER
MODELS
PL5500
TYPE
Narrow Transport Front-Fold
ROW SPACING / NO. OF ROW UNITS
30" / 8 rows
70cm / 8 rows
75cm / 8 rows
H.P. REQUIREMENTS (min)
115-130
WEIGHT (approx. range)
6,400 lbs.
(2,903 kg)
DIMENSIONS
 
WORKING WIDTH
18' 6" (5.64m)
WIDTH (transport)
9' 9" (2.97m)
HEIGHT (transport)
11' 6" (3.51m)
CAPACITY
 
SEED CAPACITY
24 bu. (3 bu. Hopper), 12.8 bu. (1.6 bu. Hopper)
(846 L (106L. Hopper), 451 L (56 L Hopper))