Great Plains TCN5311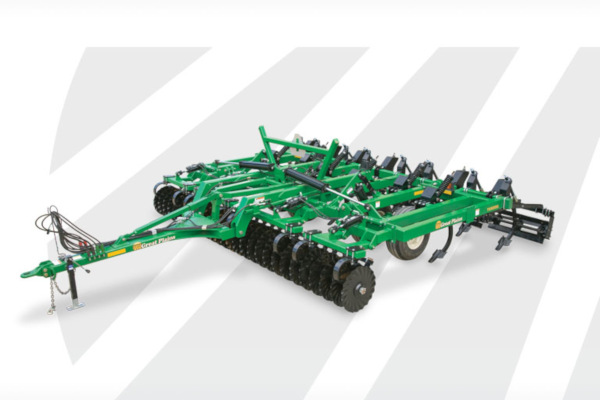 Double tap to zoom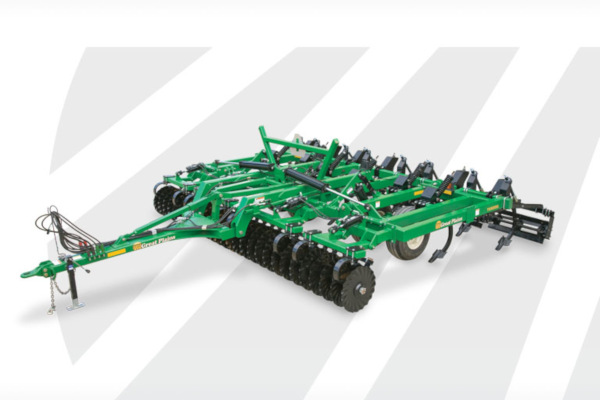 Features
HYBRID MACHINE WITH HEAVY-DUTY TOGGLE-TRIP SHANKS
When equipped with heavy-duty toggle-trip shanks, this "hybrid" unit works in the 8" to 12" range (rather than the 13" to 15" range required by disk rippers) while horizontally fracturing soil much better than a disk chisel. Toggle-trip shanks can't float. They either run at the set depth or trip – there is no inbetween. The Heavy-Duty Toggle Trip Shank has a 2,450-pound horizontal trip force and will automatically reset when tripped.
EXCLUSIVE 22" TURBO BLADES
On 7½" spacing, the 22" Turbo blades enter the soil vertically and leave horizontally, causing a mulching action of both soil and residue while maximizing lateral fracture. Competitive concave-disc tools simply cut off and roll long stringy stalks.
AVAILABLE SHANK COMBINATIONS
Order the Turbo-Chisel the way you want it with two different shank combinations: Standard Chisel (pictured: two shanks on the left) or Heavy-Duty Parabolic (pictured: shank on the far right).
EXCLUSIVE MAINTENANCE-FREE BEARINGS
These 360° self-aligning bearings are never sideloaded. A six-lip seal on each side locks in grease and prevents contamination, which reduces maintenance time and extends the life of the bearings.
WALKING TANDEM AXLES
Maintain consistent mainframe height for accurate, consistent tillage depth control.
SINGLE-POINT DEPTH STOP
Adjust the depth across the entire width of the machine in one convenient place.
OPTIONAL PATENTED ANGLED REAR CHOPPER WHEEL ATTACHMENT
Patented angled chopper wheels pull dirt back into shank voids, leveling soil while maintaining the vertically-tilled profile left by the shanks.
ADJUSTABLE COULTER DEPTH
Independently control coulter depth from the cab. This allows the operator to make adjustments to the depth based on field conditions.
Specifications
MODEL
TCN5311
SHANK SPACING
15"
COULTER SPACING
7.5"
TRANSPORT TIRES
12.5Lx15
12-ply (4)
WEIGHT (approx lbs)
11,500
PTO H.P. REQ (min)
Option 20: 20hp per shank
Option 26: 30hp per shank
DIMENSIONS
TILLAGE WIDTH
13' 9"
TRANSPORT WIDTH
9' 10"
TRANSPORT HEIGHT
9' 10"
TILLAGE INFO
CENTER SECTION
9'
1ST WING SECTION
2' 6"