Great Plains 3000TM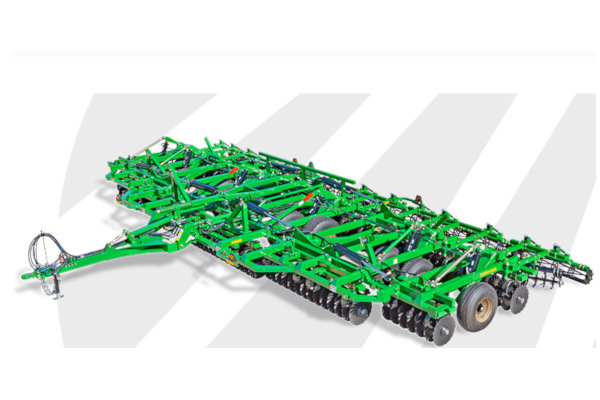 Double tap to zoom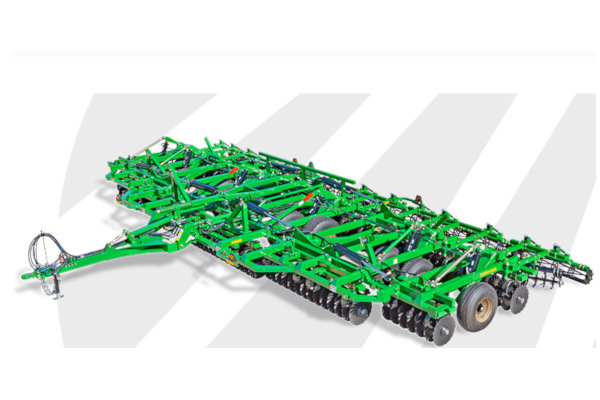 Features
IMPLEMENT COMMAND™
Take command of your adjustment and monitoring needs right at your fingertips with the new Implement Command System option for select models of Turbo-Max! This system allows you to set, adjust, and monitor your Turbo-Max right on your ISO-compatible monitor in your tractor cab.
HYDRAULIC REEL (OPTIONAL)
The optional hydraulic reel allows you to conveniently adjust down pressure or lift out of the ground with in-cab hydraulic operation. An easy-to-read pressure gauge allows for easy down-pressure monitoring from the tractor seat! This design maintains travel regardless of the selected down pressure. A hydraulic cylinder is used to preload down-pressure springs. When field conditions are not ideal, the harrow can be raised.
HYDRAULICALLY-ADJUSTABLE GANG ANGLE FROM 0-6° ON-THE-GO
Sizes and covers residue in the fall at 3° to 6° and prepares the ultimate spring seedbed at 0°.
TRUE VERTICAL TILLAGE MACHINE
With 20" Turbo Coulters spaced 7½" apart, Turbo-Max provides truly vertical cutting without the shearing caused by concave blades. Offset front and rear gangs achieve an effective residue cutting width of 3¾" when running at 0°, which is recommended for seedbed preparation.
HYDRAULIC TONGUE (OPTIONAL)
Optional Hydraulic Tongue allows front-to-back leveling on-the-go from the cab of the tractor.
HYDRAULIC WEIGHT TRANSFER IS STANDARD (MODELS 18' AND LARGER)
Creates an even and constant downforce across the entire width of the implement, assuring uniform penetration and eliminating the possibility for wings to float.
EXCLUSIVE MAINTENANCE-FREE BEARINGS
These 360° self-aligning bearings are never sideloaded. A six-lip seal on each side locks in grease and prevents contamination, which reduces maintenance time and extends the life of the bearings.
ROLLING SPIKE AND REEL REAR ATTACHMENT
Rolling spike harrow tines split Turbo Coulters to ensure thorough mixing of soil and residue and provide a smooth, uniform seedbed for optimum planter performance. The rear reel leaves the surface planter-ready by firming soil, removing air pockets, and eliminating clods.
7½" BLADE SPACING
Turbo-Max features two gangs — each with 7½" spacing between coulters — with the rear gang offset from the front gang. The gangs work together to size residue to an industry-leading 3¾".
Specifications
MODEL INFO
TURBO-MAX
MODEL
3000TM
COULTER SPACING
3¾" (2 offset gangs at 7½" spacing per gang)
TIRES
380/55R  16.5 (4)
WEIGHT (approx. max weight w/ attachments)
23,300 lbs
PTO H.P. REQ (min)
300+
DIMENSIONS
TILLAGE WIDTH
30'
TRANSPORT WIDTH
15' 4"
TRANSPORT HEIGHT
14'
TILLAGE INFO
CENTER SECTION
10'
1ST WING SECTION
10'
2ND WING SECTION
N/A