HayBuster 2665 Balebuster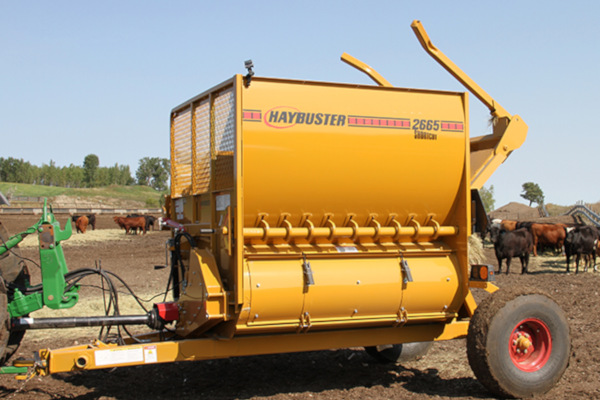 Double tap to zoom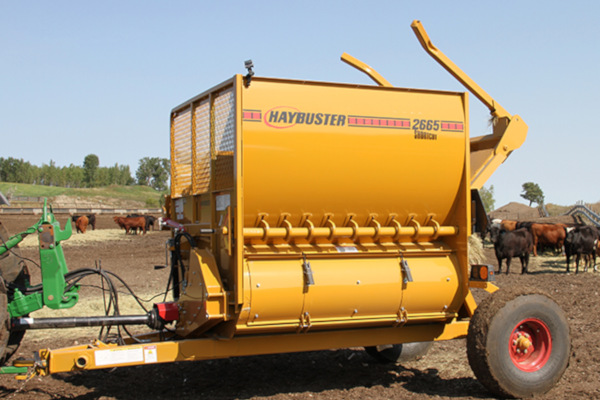 Features
Two-stage bale loader that easily picks up bales without disturbing other bales and gouging the ground.
The 2665 has more slug bars, more flails, more stripper channel kits than the model 2660 for a shorter product.
Adjustable slug bars allow you to easily position the bale from the rotor and hammers which also allows you to take any size bite out of the bale
Standard Features
Heavy-duty chain conveyor with more durable chain and heavier drive shafts.
Rotor is driven through the chain case, which reverses the direction of the rotor for right side discharge and also increase the rotor speed by 30%.
Two-stage bale loader that easily picks up bales without disturbing other bales and gouging the ground.
Heavy-duty tubular frame construction designed to carry heavy bales.
Rotor access door gives you easy access to rotor for service and maintenance.
Adjustable slug bars allows you to easily position the bale from the rotor and hammers allowing you to take any size bite out of the bale.
More slug bars, more flails, more stripper channel kits than the 2660 for a shorter product.
Optional Features
Containment kit to add even more size to the shredder chamber. Great option for corn stalk bales.
FT-24 Feed Tank top dresses feed supplements on top of the windrow while you are processing a bale. It is 24 bushels and has and easily adjustable feed metering system. 
Hydraulic deflector allows you to adjust the deflector height without leaving the tractor. 
Wide deflector belt is 18" and is a great option for bunk feeding.
Digi-Star EZ 2400 four-point scale is loaded with features and accurate and easy to operate.
Specifications
| | |
| --- | --- |
| WEIGHT |  - |
|  Total | 5,150 lbs (2,336 kg) |
|  Tongue (Bale loader fully raised) | 1560 lbs (707.6 kg) |
|   |   |
| TRANSPORT DIMENSIONS (Bale loader fully raised, deflector folded) |  - |
|  Width | 8' 4" (2.54 m) |
|  Length | 14' 11" (4.55 m) |
|  Height | 11' (3.35 m) |
|   |   |
| WORKING DIMENSIONS (With 1 bale, deflector in spread position) |  - |
|  Width | 10' 10" (3.30 m) |
|  Length | 14' 11" (4.55 m) |
|  Height | 11' (3.35 m) |
|   |   |
| WORKING DIMENSIONS (With 2 bales, deflector in spread position) |  - |
|  Width | 10' 10" (3.30 m) |
|  Length | 19' 7" (5.97 m) |
|  Height | 11' (3.35 m) |
|   |   |
| CHASSIS FEATURES |  - |
|  Towing Arrangement | Clevis type hitch. |
|  Jack Capacity | 5000 lbs. (2268 kg) |
|  Jack Travel | 10 in (25.4 cm) |
|  Bearing Type | Tapered Roller |
|   |   |
| BALE LOADER |  - |
|  Type | Integral 2 Stage, Twin Boom Arms |
|  Bale Tines | Tubular Steel, 10° Float, 4 Position Width Adjustable |
|  Hydraulic Cylinder | 4-1/2 in x 24 in (11.43 cm x 60.96 cm ), Double-Acting |
|   |   |
| BALE CONVEYOR |  - |
|  Type | 3 Roller Chains with Bolt-On Cross Slat |
|  Drive | Hydraulic Orbital Motor with Adjustable Flow Control |
|  Drive Shaft Bearings | 1-1/4" (3.18 cm) |
|  Drive Shafts | 1-1/4" (3.18 cm) |
|   |   |
| BALE SHREDDER CHAMBER |  - |
|  Max. Bale Weight each | 2200 lbs. (998 kg) |
|  Rotor Length | 78 in. (1.98 m) |
|  Rotor Diameter (Flails extended) | 25 in. (63.5 cm) |
|  Rotor Bearing | Ball, 2" (5.08 cm) |
|  Rotor Speed | 1300 RPM |
|  Number of Flails | 40 |
|  Flail type | Heavy Duty, 7/16 in. (11.11 mm) thick, 3 lbs. (1.36 kg), Heat Treated Spring Steel, Swinging |
|  Number of Stripper Channels | 3 |
|  Number of Slug Bars | 9 |
|  Slug Bar | Single point, 9 Adjustment Settings through a 180 Degree Range (optional hydraulic adjustment) |
|  Delivery | Right Hand Discharge |
|  Deflector | 6 Adjustment Settings through a 120 Degree Range (optional hydraulic adjustment) |
|  Max. Horizontal Spread | Straw, up to 50 ft. (15.24 m) |
|   |   |
| OPERATOR CONTROLS |  - |
|  Loader | 1 Tractor Double-Acting Hydraulic Valve |
|  Bale Conveyor | 1 Tractor Double-Acting Hydraulic Valve |
|  Bale Conveyor Speed | Conveyor Speed Control Valve |
|  Slug Bar | Hand Lever with 5 Settings (optional hydraulic adjustment) |
|  Deflector | Hand Lever with 6 Settings (optional hydraulic adjustment) |
|   |   |
| REQUIREMENTS FOR OPERATION |  - |
|  PTO Horsepower Required | 65hp (48.5kw) to 155hp (115.6kw) |
|  PTO Type | 1000 RPM, 1-3/8 in. dia. PTO Shaft with 21 Splines choice of Constant Velocity or Standard PTO |
|  Min. Tractor Hydraulic Output | 8 gpm at 1500 psi (30.3 lpm x 10,345 kPa) |
|  Tractor Hydraulic Controls | 2 Double-Acting Control Valves with Quick Coupler Outlets |
|  Tractor Weight | Must be of equal or greater weight than that of a 2665 with 2 bales |
|  SMV Sign | Standard equipment |
|  Road Lights | Standard equipment |