Honey Bee 4000 Series Header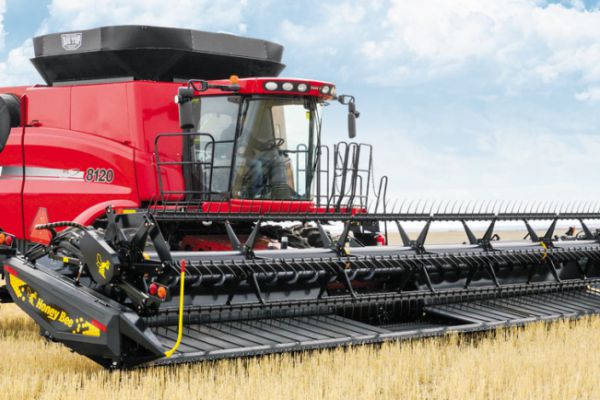 Double tap to zoom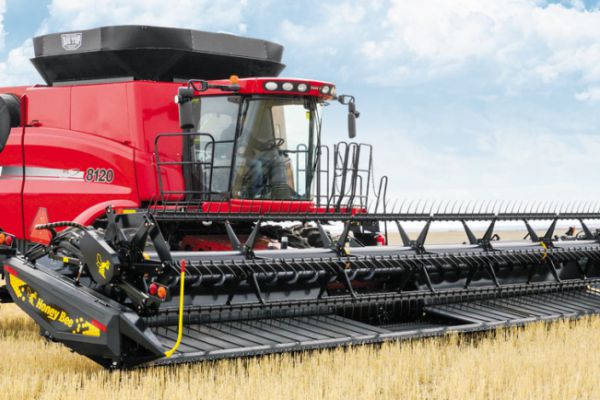 Features
Draper Crop Saver Seal


The new seal at the bottom end of the draper reduces losses with smaller-seeded crops including canola, flax, hemp and sesame.



Low Profile Draper Decks


The flatter profile decks improve crop transition from cutterbar to feeder house. This makes harvest faster and reduces cutterbar crop loss.



Larger Centre Auger Drum and Improved Transition


Crops feed smoother and faster into the combine, thanks to the increased capacity of the auger drum and 80" center deck opening. Large fluffy crops such as canola feed easily.



Redesigned Hydraulics


The new hydraulic design reduces operating temperatures, resulting in improved performance and reduced hydraulic issues.



Mechanical Trap Door


The Mechanical Trap Door allows you to remove debris that accumulates in front of the centre draper.



Adjustable Castoring Gauge Wheels


The adjustable wheels provide 8″ of vertical float and castor on turns to reduce potential damage.



Slanted Back Beam and Deck Design


These areas were redesigned to improve draper and cutterbar visibility from the cab and improve crop transition from cutterbar to feeder house.



Low Profile Cutterbar


The low cutterbar cuts closer to the ground and reduces dirt pushing.
Specifications
 
4030
4036
4040
4045
Width
30′ (9.1 m)
36′ (10.9 m)
40′ (12.2 m)
45′ (13.7 m)
Weight (no reels, options or combine adapter)
2,358 kg
(5,200 lbs)
2,681 kg
(5,900 lbs)
2,932 kg
(6,450 lbs)
3,045 kg
(6,700 lbs)
Hydraulic System
Self-contained hydraulic system on the header.
Tandem gear pump with step-up gear box driven off bottom feeder housing shaft.
Header Floatation
Leaf spring float system with coil-over spring assist standard on all models.
Cutting System
SCH Easy Cut, spring steel guards, bolted sections.
Knife Drive
Double knife drive standard on all models. SCH Epicyclic 3 5/16″ (8.4 cm) stroke, hydraulically driven, approximately 1,240 – 1,350 strokes per minute (depending on make of combine).
Draper
42″ (106.7 cm) wide rubberized polyester, fibreglass reinforced rubber slats. Hydraulically driven, speed adjustable from approximately 0 – 700 fpm (213.4 mpm).
Draper Seal
Standard
Center Deck
Hydraulically driven, 80″ (203.2 cm) wide centre canvas. Speed adjustable on header.
Feed Auger
Mechanically driven, 16″ x 82.5″ (40.6 cm x 209.6 cm) retractable finger auger. 3″ (7.6 cm) double start flighting. Bolt on flighting sections to match combine feederhouse width.
Reel(s)

| | | | |
| --- | --- | --- | --- |
| 1 – 30′ (9.1 m) | 1 – 36′ (10.9 m) | 2 – 20′ (6.1 m) | 2 – 22.5′ (6.9 m) |

Pickup Reel – Universal UII, (Series 2) 6 bat, 42″ (106.7 cm) diameter, plastic teeth only.

Hart Carter (HCC) Pickup Reel (flip over design) comes with end tine package – 6 bat

Honey Bee Reel – available in limited quantities

Reel Drive
Standard Chain Drive – using combine hydraulic system. Reel speed adjustable in cab.
Automatic Reel Speed Control
Standard – Available on most current production combines. Combine must be equipped with Automatic Reel speed circuit.
Reel Fore/Aft
Standard
Hydraulic Header Tilt
Standard
Gauge Wheels
Standard
Header Height Control Ready – HeadSight
Standard
Cutterbar Poly Skid
Standard
Mechanical Trap Door
Standard
Tires/Wheels/Hubs/Spindles
Standard
Combine Adapters
Available for most models of self-propelled combines.
Combine Adapters
Optional – 30′ (9.1 m) (3pc)
Optional – 36′ (10.9 m) (3pc)
Optional – 40′ (12.2 m) (3pc)
Optional – 45′ (13.7 m) (3pc)
Vertical Shear Ready
Optional
Roto-Shear Ready
Optional
Adjustable Skid Shoes – Ends
Optional
Adjustable Skid Shoes – Middle
Optional
Adjustable Skid Shoes – Ends & Middle
Optional
Dolly Wheel Transport
Optional
No Transport (Includes lift points)
Optional