Honey Bee AirFLEX Series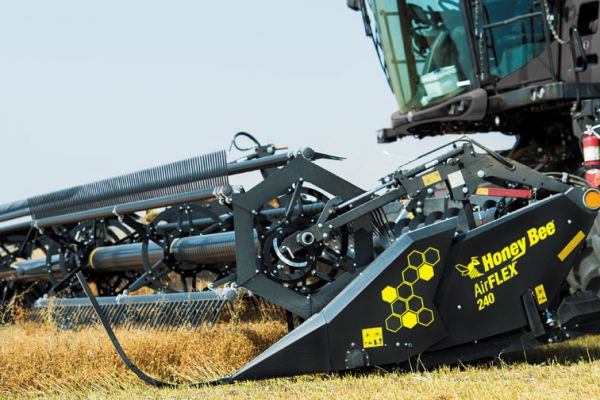 Double tap to zoom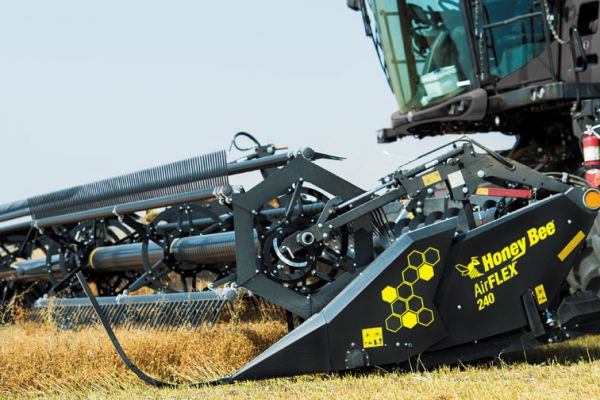 Features
Easy to Operate
The AUTOMATIX push-button system is an advanced control panel delivering simple and complete control of the AirFLEX, including real-time monitoring of all systems.


High Performance Rigid Mode


The no-compromise rigid cutterbar is optimized for off-ground cutting. No gauge wheels are required.



Transport System


The AirFLEX transport wheels are designed to be there when you need them and off for harvest. They're self-aligning and can be mounted in five minutes.



Honey Bee Draper Shield


The draper shield efficiently provides and promotes unrestricted crop flow to the centre deck without power, moving parts or adjustment.



Cross Auger


A hydraulic cross auger is available to assist in material flow from the drapers to the feed auger. It replaces the draper shield and adjusts for bulky and tangled crops like peas and mustard.



Speed


The AirFLEX allows greater precision at higher speeds. You'll pick up the entire crop while covering more acres at a pace that will surprise you.



Fully Synchronized, Centrally Driven Knives


The smooth operating knife drive provides powerful cutting action and increased durability, while enabling a lighter and more streamlined crop divider.



Honey Bee High Performance Reel


The custom built, fully adjustable reel ranges from gentle to aggressive with unlimited finger spacing options to leave no crop behind.



Reversible Mechanical Drive


For maximum convenience and efficiency, you can remove plugged crops directly from the cab of your combine. The drapers, knife drive and feed auger run reverse with the combine



High Performance Drapers




The new draper tensioning system provides smooth, consistent operation regardless of what crop you're harvesting.
Specifications
 
AF225
AF230
AF236
AF240
AF245
AF250
Width
25' (7.6 m)
30′ (9.1 m)
36′ (10.9 m)
40′ (12.2 m)
45′ (13.7 m)
50′ (15.2 m)
Operating weight (incl. reel)
2,701 kg
(5,955 lbs)
2,923 kg
(6,444 lbs)
3,112 kg
(6,860 lbs)
3,460 kg
(7,628 lbs)
3,636 kg
(8,016 lbs)
3,812 kg
(8,404 lbs)
Hydraulic System
Hydraulics are limited to the combine reel circuits only.
Cutting System
Honey Bee cutting system with SCH sections.
Knife Drive
Fully synchronized mechanical knife drive.
Draper
New high performance tensioning system and mechanical drive.
Center Deck
New high performance tensioning system and mechanical drive.
HB Draper Shield
Patented crop flow assistance device.
HB Reel
High strength, high performance reel with multiple crop settings and finger spacing options.
Reel Drive
Centre hydraulic reel drive.
Transport System
Heavy-duty road transport with electric brakes.
Tires / Wheels / Hubs / Spindles
Standard
Cutterbar Poly Skid
Standard with sectional panels.
Combine Adapters
Available for most models of self-propelled combines.
Fore/Aft
Standard – using combine functions.
Automatic Reel Speed Control
Standard equipment – combine must have reel speed circuit.
Header Height
Standard – combine needs header height function.
Automatix
Standard
Operating Modes
Standard – flex and rigid
Reversible Mechanical Drive
Standard
Maintenance Requirements
4 x 10 hour knife grease / 15 x 50 hour drive-line grease
Flex
A total of 9″ flex in cutterbar
Cutterbar
Independently suspended
Air System
Standard on-board air compressor with cab controls (AUTOMATIX)
Stubble Lights
Standard LED