Honey Bee Grain Belt Header Series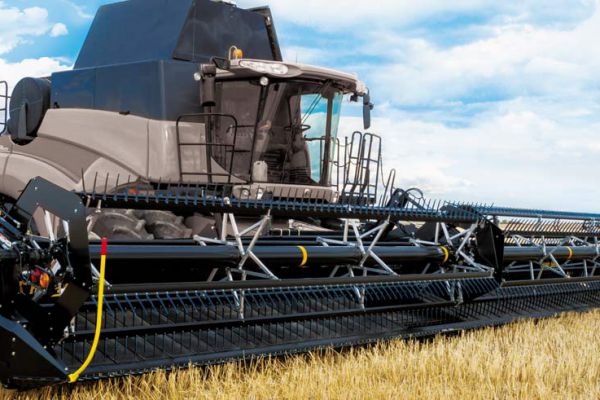 Double tap to zoom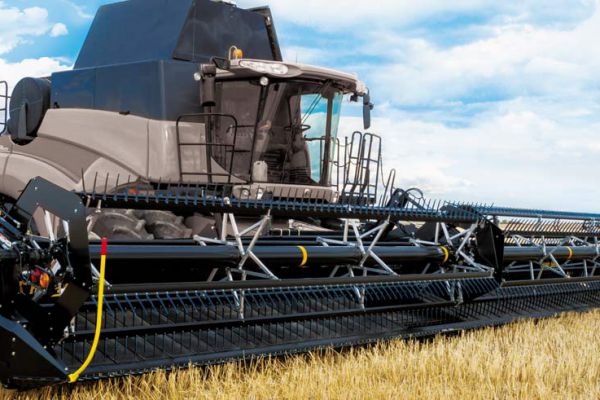 Features
Hydraulic Header Tilt
The hydraulic header tilt adjustment is equipped with a ball and socket on both ends, improving header floatation.


Adjustable Castoring Gauge Wheels
Adjustment to cutting height is now a breeze — simply pull a pin and push a lever. The Grain Belt Header also has an incredible floatation of eight inches.


Low Profile Cutterbar
The cutterbar height is now the lowest in the industry. In addition, the profile has been changed to reduce the height the crop has to move from the knife to the draper by 50%.


Draper Speed Control
Draper speeds are hydraulically controlled and adjustable. Independent control over the drapers gives you the power to move heavy material smoothly and efficiently.


Crop Divider
The improved crop divider flows seamlessly through the heaviest of crops, reducing crop trampling.


Lateral Leaf Spring Float System
The Grain Belt Header has excellent floatation and ground-hugging capability. Lateral and vertical leaf spring suspension allows the header to float independently of the combine's OEM accumulator floatation system. You'll put more crop through the combine, leave less in the field and reduce rock damage to your cutting system.


Draper Tension and Tracking
The canvas can be adjusted for tracking and tightening, which creates even tension on both the front and rear of the rollers. A quick-release lever allows for ease of canvas and roller cleaning.


Deck and Feed Auger
Fasten your seat belt. The 68″ (172.7 cm) centre deck, combined with the 72″ (182.9 cm) feed auger with retractable fingers, smoothly feeds the crop into the feeder housing without twisting or tangling. A hinged door under the centre deck allows easy cleaning of foreign material like rocks and roots that might jam the feeder.


Independent Hydraulic System
The independent hydraulic system allows you to easily fit the Grain Belt Header to any combine. If you change combines, you can switch the header to the new combine simply by changing the adapter.


Knife Drive
The knife is driven by a 3 5/16″ (8.4 cm) stroke, epicyclic knife drive that ranges from 1,284–1,400 strokes per minute (depending on make of combine), eliminating fore/aft movement. The knife drive is driven by a low-maintenance hydraulic drive motor. Optional double knife drive systems are available.
Specifications
 
SP21
SP25
SP30
SP36
SP40
SP42
Width
21′ (6.4 m)
25′ (7.62 m)
30′ (9.1 m)
36′ (10.9 m)
40′ (12.2 m)
42′ (12.8 m)
Operating Weight
4,830 lbs
(2,190 kg)
5,750 lbs
(2,608 kg)
6,834 lbs
(3,100 kg)
7,600 lbs
(3,450 kg)
8,070 lbs
(3,660 kg)
8,289 lbs
(3,760 kg)
Hydraulic System
Self contained hydraulic system on the header.
Double gear pump with step-up gear box driven off bottom feeder housing shaft.
Header Floatation
Leaf spring float system standard on all models.
Cutting System
SCH Easy Cut, spring steel guards, bolted sections.
Knife Drive
SCH Epicyclic 3 5/16″ (8.4 cm) stroke, hydraulically driven, approximately 1,284 – 1,400 strokes per minute
(depending on make of combine).
Single or Double
Double
Draper
42″ (106.7 cm) wide rubberized polyester, fibreglass reinforced rubber slats.
Hydraulically driven, speed adjustable from approximately 0 – 575 fpm (175.3 mpm).
Centre Deck
Hydraulically driven, 68″ (172.7 cm) wide centre canvas. Speed adjustable on header.
Feed Auger
Mechanically driven, 18″ x 72″ (45.7 cm x 182.9 cm) retractable finger auger.
Reel(s)
1 – 21′ (6.4 m)
1 – 25′ (7.62 m)
1 – 30′ (9.1 m)
1 – 36′ (10.9 m)
2 – 20′ (6.1 m)
2 – 21′ (6.4 m)
Pickup Reel – Universal UII (Series 2) 6 bat plastic fingers only.
HCC Pickup Reel (flip over design c/w end tine pkg – 6 bat – assembled)
Honey Bee – 6 bat plastic fingers with either 2 1/2 inch or 5 inch spacing
Reel Drive
Standard – using combine Hydraulic System. Header driven reel optional. Reel speed adjustable in cab.
Gauge Wheels
N/A
Standard
Header Height Control
Optional
Storage Transport Integral
Optional
Standard
Storage Transport Detachable
Optional
N/A
Tires/Wheels/Hubs/Spindles
Standard
Cutterbar Poly Skid
Standard
Combine Adapters
Available for most models of self-propelled combines.
Cross Auger
Size Specific
21′ (6.4 m)
(1pc)
25′ (7.62 m)
(1pc)
30′ (9.1 m)
(3pc)
36′ (10.9 m)
(3pc)
40′ (12.2 m)
(3pc)
42′ (12.8 m)
(3pc)
Hydraulic Header Fore/Aft Tilt
Standard
Automatic Reel
Speed Control
Optional – Available on most current production combines.
Combine must be equipped with Automatic Reel speed circuit.
Vertical Knife Ready
Optional
Dual Wheel Hitch Carrier
Optional