Honey Bee Rice Belt Header Series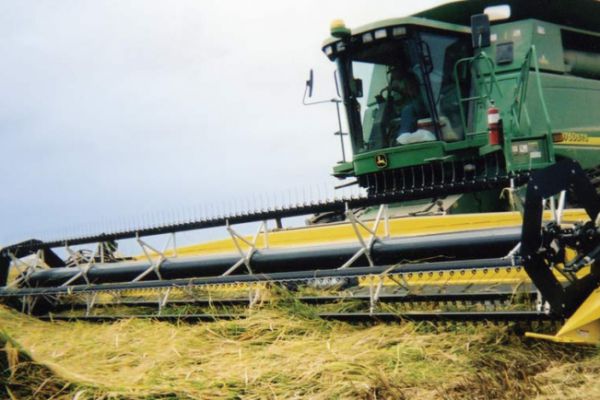 Double tap to zoom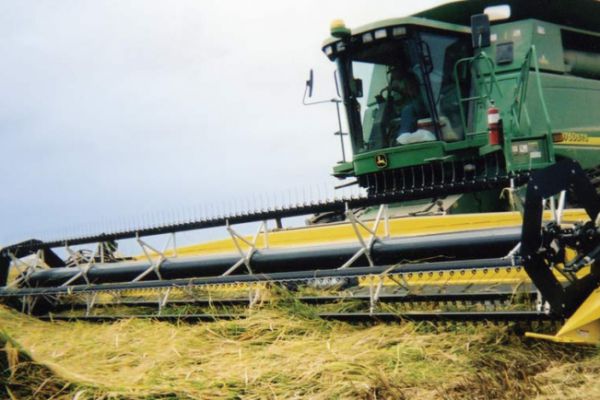 Features
Lateral leaf spring float system
The header has excellent flotation and ground-hugging capability. Lateral and vertical leaf spring suspension allows the header to float independently of the combine's OEM accumulator flotation system. You'll put more crop through the combine, leave less in the field, and reduce rock damage to your cutting system.


UHMW Skid plates
UHMW skid plates are standard on all models to protect the cutterbar when cutting crops close to the ground.


Double reel drive
The hydraulically driven reel is easily controlled using standard in-cab controls allowing for quick reel adjustment in changing crop conditions.


Draper speed control
Draper speeds are hydraulically controlled and adjustable. Hydraulic power is split 50% to the side drapers and 50% to the centre deck. Independent control over the drapers gives you the power to move heavy material smoothly and efficiently.


Polyester Drapers
Drapers are made of long-lasting, rubberized polyester with fibreglass-reinforced slats and tie bar connectors. The drapers are standard 42″ (106.7cm ) width.


Draper Drive
The 2 1/2″ (6.4 cm) diameter drive rollers provide traction in heavy crop conditions. Powered from the outside by a hydraulic motor, the drapers move the crop towards the centre deck and feed auger for more uniform feeding.


Draper Tension and Tracking
The canvas can be adjusted for tracking and tightening, which allows even tension on both the front and rear of the rollers. A quick release lever allows for ease of canvas and roller cleaning.


Deck and Feed Auger
Fasten your seat belt. The 68″ (172.7 cm) centre deck combined with the 72″ (182.9 cm) feed auger with retractable fingers smoothly feeds the crop into the feeder housing without twisting or tangling. A hinged door under the centre deck allows easy cleaning of foreign material like rocks and roots that might jam the feeder.


Feed Auger Slip Clutch
A slip clutch on the feed auger disengages to prevent damage caused by foreign material running through the combine.


Independent hydraulic system
A PTO driveline powers a hydraulic pump that is mounted to a step-up gear box that drives the feed auger. The step-up gear box is lubricated with oil supplied from the header hydraulics, which is double filtered to keep the system clean.


Manual Header Tilt
No-wrench tilt adjustment allows you to set the platform at the best angle to perform in all crops — short, tall, bulky or sparse.


SCH Cutting System
The SCH Easy Cut Cutting System provides smooth, superior cutting. Spring steel guards, with cutting edges on top and bottom, along with alternating, bolted, heat-treated sections, eliminate the need for hold downs. The system keeps dirt and debris from accumulating under the knives for increased performance in severe cutting conditions.


Knife Drive
The knife is driven by a 3 5/16″ (8.4 cm) stroke, epicyclic knife drive which ranges from 1,284–1,400 strokes per minute (depending on make of combine), eliminating fore/aft movement. The knife drive is driven by a low maintenance hydraulic drive motor. Optional double knife drive systems are available.
Specifications
 
21′
25′
30′
36′
Width
21′ (6.4 m)
25′ (7.6 m)
30′ (9.1 m)
36′ (10.9 m)
Weight*
(no reels or options included)
5,269 lbs
(2,390 kg)
5,911 lbs
(2,681 kg)
6,786 lbs
(3,078 kg)
7,200 lbs
(3,266 kg)
Hydraulic System
Self contained hydraulic system on the header.
Single gear pump with step up gear box driven off of bottom feeder house.
Header Floatation
Leaf spring float system standard on all models.
Cutting System
SCH Easy Cut, spring steel guards, bolted sections, roller spacer bar.
Knife Drive
SCH 3 5/16″ (8.4cm) stroke, hydraulically driven, approximately 1,100 – 1,300 strokes per minute.
Standard single drive with option of double drive knife.
Draper
42″ (106.7 cm) wide rubberized polyester, fibreglass reinforced rubber slats. Hydraulically driven.
Centre Deck
Hydraulically driven, 68″ (172.7 cm) wide centre canvas. Speed adjustable on header.
Feed Auger
Mechanically driven, 18″ x 72″ (45.7 cm x 182.9 cm) retractable finger auger.
Reel(s)
21′
25′
30′
36′
Pickup Reel – Universal UII, (Series 2) 6 bat, 42″ (106.7 cm) diameter, plastic teeth only.
Pickup Reel – HCC Polytine Level II series, 6 bat, 42″ (106.7cm) diameter.
Reel Drive
Standard – using combine hydraulic system. Header driven reel optional. Reel speed adjustable in cab.
Gauge Wheels
Optional
Storage Transport
Optional
Formed Fit Poly Skid (UHMW)
Standard
Combine Adapters
Available for most models of self-propelled combines.
Fore/Aft
Standard
Automatic Header Height Control
Optional
*Rice Belt Header weight includes: Header c/w Standard Decks, Single Knife, Cutterbar Poly Skid (UHMW), Dual Reel Drive Motors Tires/Wheels/Hubs and Spindles, Hydraulic Fore/Aft, Integral Transport, Combine Adapter, Driveline Package, Levee Shields, Stainless Steel Adapter Insert and Reel.