Kuhn Axent 100.1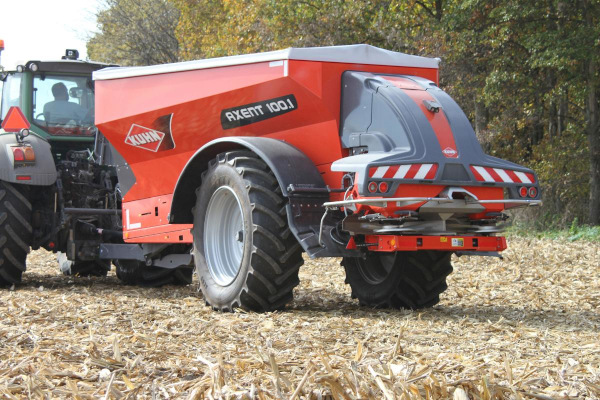 Double tap to zoom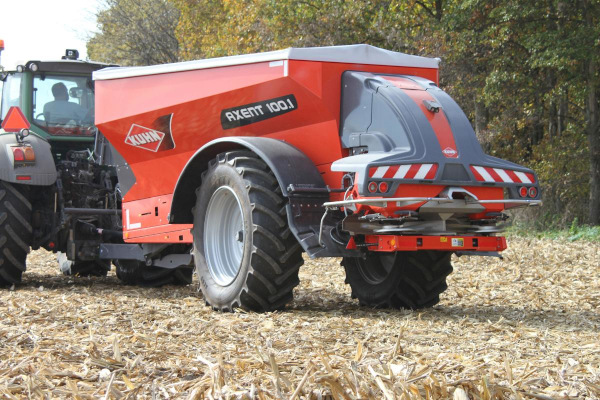 Features
High Precision Rate Control
The EMC System continuously monitors and makes automatic adjustment to keep programmed rate regardless of ground speed, material or field conditions.
Wide Working Widths
Wide working widths allow you to spread fertilizer with a high precision rate of up to 164' depending on the material you are spreading.
High Capacity and Lime Capacity
With 353 cubic feet of capacity, the Axent is designed to cover large acreages, the lime pack increases machine versatility.
Opti-Point and Vari-Speed Dynamic
Automatic GPS control of headland engagement, border spreading and section control.
ISOBUS Compatibility
Have the ability to "plug and play" with existing ISOBUS virtual terminals for ultimate simplicity, variable rate ready without needing an external rate controller.
Specifications
| | |
| --- | --- |
| Model | Axent 100.1 |
| Basic capacity | 335 ft³ (9.5 m³) |
| Total width | 10' (3.05 m) |
| Axle spacing | Fixed: 120" (305 cm) Steering: 90" (229 cm) |
| Total length | 25' (7.6 m) |
| Total height | 9'8" (2.95 m) |
| Conveyor belt width and type | 31.5" (80 cm) wide, high endurance rubber fabric (8 mm thick) |
| Axis PowerPack - spreading width | 60' - 164' (18.5 - 50.2 m) depending on material and disc selection |
| Axis PowerPack - standard spreading discs | S6 VxR+ |
| Axis PowerPack - application rate adjustment | Up to 1,100 lbs (500 kg) / min |
| Lime PowerPack - spreading width | 20' - 60' (6.10 - 18.3 m) depending on material |
| Lime PowerPack - standard spreading discs | U2 |
| Lime PowerPack - application rate adjustment | 10 - 5,999 lbs/acre |
| Tires | Fixed axle: 480/80R50 Steering axle: 650/65R42 (floater style tire) |
| Control terminal | ISOBUS compatible (optional terminals available) |
| Section control | Standard (required activation on terminal used) |
| Weigh scales | Standard |
| Backup camera | Standard |
| Hopper cover | Standard hydraulic folding from cab |
| Hitch | Cat. 3 & 4 drawbar hitch |
| PTO type | 1 3/8" 21-spline |
| Gearbox | 1,000 rpm |
| Minimum power requirement | 180 hp (134 kW) |
| Required tractor hydraulic connections | 2 DA (main spreader functions via integrated hydraulic system) |
| Fertilizer identification cards and spread charts | Standard in imperial and metric |
| Trailer weight empty | 9,350 lbs (4,241 kg) |
| Maximum rated payload for road travel | 19,000 lbs (8,618 kg) |
| Maximum rated payload for field spreading | Fixed axle: 22,000 lbs (9,979 kg) Steering axle: 28,000 lbs (12,700 kg) |