Kuhn PF 1145 Delivery Box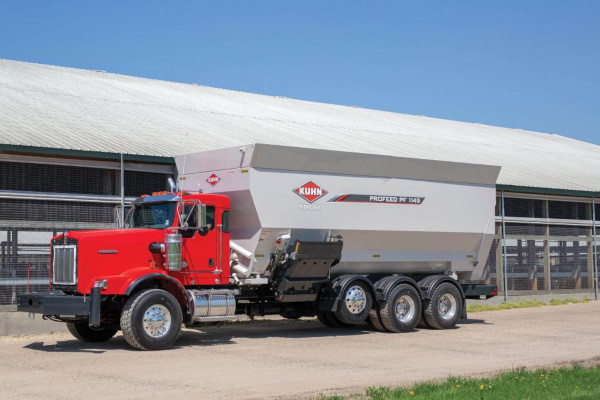 Double tap to zoom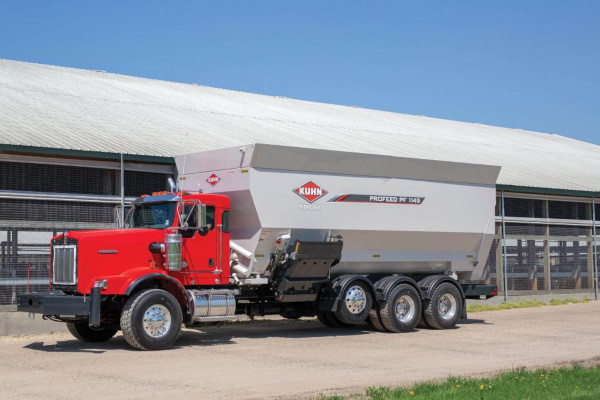 Features
Durable, High-Capacity Box
Large Capacities to Feed More Cattle
The PF 100 Series includes two models: the PF 1130 & PF 1145, both available with 5.5" and 17.75" extensions, resulting in capacities ranging from 1,000 ft³ to 1,450 ft³, each with a 50,000-pound maximum net load rating.
Raised, Twin-Auger Design
The PF 100 Series delivery boxes use a simple, effective twin-auger design for quick, consistent discharge. Similar to the famous twin-auger design of the KUHN Knight ProTwin® Slinger® manure spreaders, the raised right auger of the PF delivery boxes eliminates material bridging and works to consistently charge the lower auger on the discharge side. Proven high performance in a variety of manure materials remains true when unloading a variety of feed ingredients and rations.
Standard and Grain Auger Options
The PF 100 Series delivery boxes are available with two auger options; the standard and grain auger configurations. Standard augers are designed with an open convergence area near the discharge door resulting in optimal load leveling and feed-out performance in higher roughage, dairy rations. Grain augers feature a closed convergence area near the discharge door, optimized for feeding typical finishing rations.
Longer Wear Life & Less Maintenance
With far fewer wear components than other delivery box designs, auger delivery boxes provide superior component lifetime and require minimal daily maintenance. No chains to replace, less daily service points, and the reduction of a cross conveyor are all examples of how the auger delivery box highlights simplicity and longevity over other designs.
Complete Clean-out and No Carry-around
Close auger-to-floor tolerances allow for excellent clean-out of the delivery box. Another advantage of the auger delivery box design is the elimination of feed carry-around. Unlike other designs that utilize chain conveyors to move feed, augers do not carry feed around and deposit it in an undesired location.

Dependable, Heavy-Duty Drive
Heavy-Duty Drive Components
The PF delivery boxes offer many proven heavy-duty components. A 40:1 planetary gearbox is used for speed reduction into the rear of the unit. A splined cast plug is used for the driveshaft-to-sprocket connection. Simple, reliable sleeve bearings are used to maintain shaft alignment. A bolted flange connection is used to mate the drive with the augers.
Upgraded Hydrostatic Drive
A variable displacement hydraulic motor reduces unloading times. The motor is capable of making incremental displacement adjustments based on requested feed-out speed from the closed-loop software. Through this incremental speed adjustment, the PF delivery boxes can respond to unload speed requests earlier in the unload process, resulting in 50% faster unloading speeds compared to the previous model.
Truck Controls
New KUHN truck mount controls provide an operator-friendly experience for delivery box control. On-board machine parameters and diagnostics are accessible on the machine display in order to quickly identify potential issues and monitor the system. An external fuse box provides easy access to fuses and relays. Auxiliary power capability is available in the new wiring harness, an easy power source for scale indicators.

High-Capacity Discharge
4-Auger Discharge
Center-rotating augers bring the feed to the center of the discharge to increase overall capacity and provide a smooth, even discharge for all ration types. The 4-auger discharge comes with power tip-off and built-in magnets. Long-lasting, replaceable polyethylene chute liners prevent rust and limit wear.
Removable Augers & Poly Liners
The discharge augers are simple to remove for easy serviceability. Long-lasting, replaceable polyethylene chute liners prevent rust and limit wear.
Simplified Drive
As with the main auger drive, the discharge auger shafts are splined for a more positive power transfer and longer service life. The simplified drive design, featuring only two chains and a remote grease bank, results in easy service and maintenance.
Specifications
| | |
| --- | --- |
| Model | PF 1145 Delivery Box |
| Maximum Net Load | 50,000 lbs (22,680 kg) |
| Overall Length | 445'' (11.3 m) |
| Unit Shell Length | 293'' (7.4 m) |
| Tread Width | 96" (244 cm) |
| Unit Weight | 21,440 lbs (9,725 kg) |
| Lower Auger Flighting Thickness - Front/Rear | ¾'' / ½'' (1.9 / 1.3 cm) |