Kuhn RA 136 Truck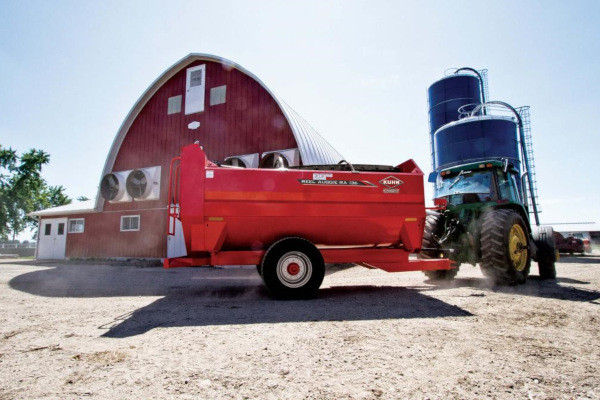 Double tap to zoom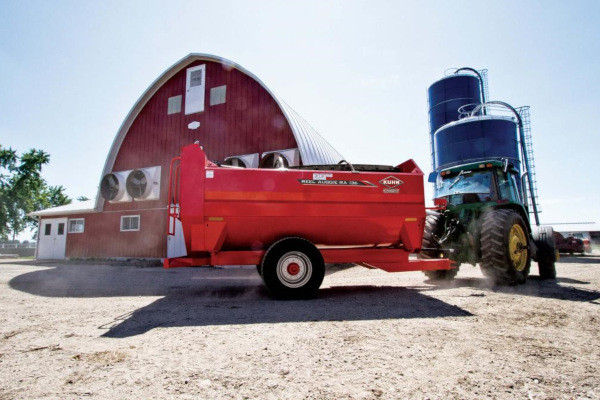 Features
The Reel Advantage
Superior Feed Movement
The reel thoroughly mixes rations gently without causing excessive damage to the feed ingredients, providing desired particle length in the TMR. The large reel gently lifts material up into the side augers for excellent side-to-side movement. The upper auger moves material rearward, while the lower auger moves material forward for end-to-end mixing. This helps feed continually charge the door during discharge.
The Unique Helix® Reel
The Helix® reel has a robust build and has been thoroughly tested to withstand the most challenging conditions. The design of the reel crossbars evens the pressure across the length of the reel for smoother operation. It also engages with the feed more smoothly. The open-center design eliminates obstructions in the reel and provides superior feed movement and unparalleled mixing action. The benefits are unmistakable, with faster, more consistent mixing, improved load leveling, optimized mixer space utilization and fewer dead spots for the ultimate in ration quality.
A mix bar runs diagonally across the center of the reel to help ensure consistent feed movement throughout the entire mixing chamber. The reel crossbars keep feed moving efficiently around the outside of the chamber. The secondary mechanical mixing action from the mix bar provides a fast and thorough mix even in wet, heavy rations with large amounts of distillers grains.
Low Fuel Consumption
Quality performance, with the lowest possible input costs is the goal of every operation. The fast, gentle mixing of KUHN Knight reel mixers helps maximize efficiency and minimize expense. The reel and auger design eliminates much of the force and pressure seen with other mixer types, resulting in low horsepower requirements and, correspondingly, less fuel consumption for economical operation.
Consistent Mixing and Discharge
KUHN Knight reel mixers provide a consistent mix, even with small batches, for a balanced ration from beginning to end. Their quick, even discharge with a more complete cleanout helps save time and maximizes efficiency.
Simple Feeding
With a high discharge point, these mixers allow for the use of a simple slide tray in most feeding situations. The long tray makes it easy to feed deeper into most bunks while preventing feed loss from the wind. This dependable, low-cost option also results in less maintenance.
Designed with You in Mind
Easier Loading
The lowered right side, with a 15" drop, provides a lower side height to provide easier loading, while the two-position axle setting allows versatility to match your unique needs. The upper setting drops the overall height of the machine by 6" for easier loading with skid steers.
Dependable Drive
The roller chains have been sized for increased durability and long service life. The entire heavy-duty chain and sprocket drive run continually in an enclosed oil bath for added protection and longer life. A single-handled latch provides easy access to the oil bath and secure closure to protect the drive system. An improved lip seal keeps oil in, and dirt and debris out to help minimize wear on drive components.
Bolted Auger Flanges
Bolted flanges on the upper and lower augers provide strong connections between the auger tubes and drive shafts for superior durability. They also allow for a single-piece front panel that gives added strength and provides a clean look.
Heavy-Duty Discharge Door
The door discharge and pivot have been redesigned and strengthened for extended service life. The linkage incorporates two ball pivots for smooth operation.

Tailor Your Machine
Multiple Discharge Options
To best suit your feeding needs, you can choose from a slide tray, chain and slat conveyor, or a 3-auger discharge to be equipped on your RA 100 Series mixer.
Slide Tray
The high discharge point of the Reel mixers allows use of the simple, dependable, low-cost slide tray in most applications. It has simple hydraulic controls and the long discharge tray reaches deeper into bunks to prevent feed loss from the wind. Magnets are standard on slide tray.
Chain and Slat Conveyor
Rugged chain and slat conveyor options provide the ultimate in durability and long life. Heavy-duty components ensure reliable service and multiple conveyor length options offer unmatched flexibility to match different feeding situations.
3-Auger Discharge
The 3-auger discharge allows adjustment for feeding into higher bunks. It has a simple, hydraulic drive that provides smooth, even discharge. Long lasting, poly chute liners help prevent rust and limit wear. The 3-auger discharge comes standard with fixed tip-off and built-in magnets.
Trailer, Truck & Stationary Models
To suit your operation's needs, KUHN Knight RA 100 Series mixers are available in trailer, truck-mounted or stationary configurations.
Trailer models are the most popular configuration as they are the most economical and versatile. Being detachable allows the tractor to be used elsewhere on the farm when not in use for feeding.
Truck-mounted models are a suitable option for those that have to feed cows at several different locations, with large travel distances. This option allows a feeder to quickly get from the mixing location to the feed bunk and back again.
Whether mixing wood chips or a ration for your livestock, KUHN Knight RA 100 Series stationary mixers are ideal for maximizing feeding efficiency and mixer throughput on any operation. Stationary mixers are perfect for producers with centralized feed storage and multiple mixers running throughout the day. By incorporating centralized mixing, one loader operator is often able to keep multiple mixers constantly running, greatly increasing mixing capacity and reducing labor. Also, with the addition of delivery boxes, the mixers do not experience the downtime from driving location to location, and in turn do not receive the additional stress which can be seen from constant travel.
Specifications
| | |
| --- | --- |
| Model | RA 136 Truck |
| Capacity | 360 ft³ (10.2 m³) |
| Maximum Net load | 10,800 lbs (4,900 kg) |
| Overall Height | 115" (292 cm) |
| Drop-Side Reduction | 15" (38 cm) |
| Overall Height - Haypan Up | 23" (58 cm) |
| Overall Height - Haypan Down | 8" (20 cm) |
| Overall Length | 158" (401 cm) |
| Mixing Chamber Length | 132" (335 cm) |
| Overall Width - Mixer Only (No Discharge) | 99" (251 cm) |
| Tread Width | 96" (244 cm) |
| Reel Speed | 6.25 rpm |
| Reel Arms | 5 |
| Lower Auger Flighting Diameter | 20" (51 cm) |
| Lower Auger Flighting Thickness - Sectional | 1/2" (1.3 cm) |
| Lower Auger Tube - Outside Diameter | 5 9/16" (14 cm) |
| Lower Auger Drive Shaft Diameter | 3" (8 cm) |
| Upper Auger Flighting Diameter | 20" (51 cm) |
| Upper Auger Flighting Thickness | 1/4" (0.6 cm) |
| Upper Auger Tube - Outside Diameter | 8 5/8" (22 cm) |
| Upper Auger Drive Shaft Diameter | 3" (8 cm) |
| Reel Diameter | 68" (173 cm) |
| Reel Driveshaft Diameter | 4" (10 cm) |
| Replaceable Sickle Knives on Upper Auger | Standard |
| Self-Sharpening Knives in Lower Auger Knotches | Standard |
| Length - Haypan | 96" (244 cm) |
| Roller Chain Drive | 80-100-120 |
| Unit Weight | 9,300 lbs (4,218 kg) |
| Weighing System | 4-point |
| Door Opening Size | 36"x20" (91x51 cm) |
| Sidewall Thickness - Auger / Reel | 9/64"/ 7 GA (0.3/0.5 cm) |
| End Panel Thickness - Front and Rear | 7 GA (0.5 cm) |
| Reel Hopper Thickness | 5/16" (0.8 cm) |
| Auger Hopper Thickness | 5/16" (0.8 cm) |
| Oil Bath Location | Rear |
| Slide Tray - Transport Width | 110" (279 cm) |
| Slide Tray - Maximum Height | 48" (122 cm) |
| Slide Tray - Maximum Reach | 20" (51 cm) |
| 3-Auger Discharge - 24"/36" (61/91 cm) - Maximum Reach | 30"/40" (76/102 cm) |
| 3-Auger Discharge - 24"/36" (61/91 cm) - Maximum Height | 63"/69" (160/175 cm) |
| 3-Auger Discharge - 24"/36" (61/91 cm) - Transport Width | 122"/126" (310/320 cm) |
| Truck Drive | Reduction Gearboxes |
| Truck Subframe | Single Axle |
| Cab-Mounted Indicator Mount and Joystick Controls | Standard |
| Steel Rear Bumper | Standard |
| Clearance Light Kit | Standard |