Mantis Electric Tiller/Cultivator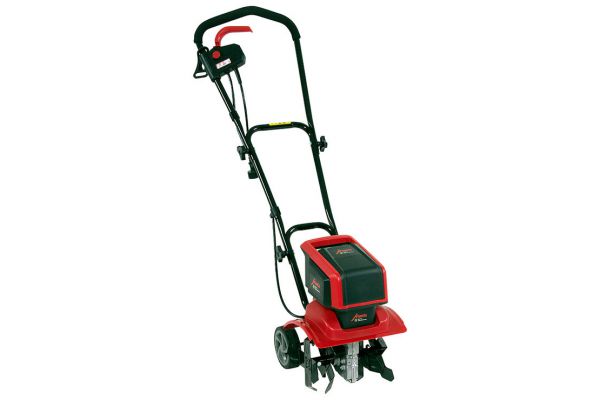 Double tap to zoom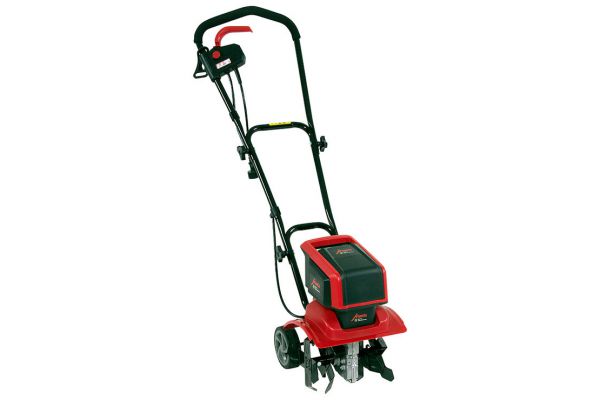 Features
Mantis Electric Tiller/Cultivator
The Mantis Electric Tiller/Cultivator 3550 delivers quiet digging and cultivating power you'll appreciate. This small corded tiller is powered by a clean, efficient electric motor. Refresh or renovate existing garden beds or break ground for planting new ones. Compact size works in any size garden.  At 24 pounds it's easy to lift into raised beds, too! Includes 3-position wheels. Give it a try for 60-days. If you're not satisfied, return it for a no-hassle refund.
2-speed motor delivers the right power for the job
The Mantis corded electric tiller 9 amp 2-speed motor is powerful and quiet. Break through hard ground or sod, refresh and rototill existing beds for planting – select the perfect speed for your job. The Mantis Electric Corded Tiller/Cultivator 3550 gets digging and weeding done fast
Steel power-trowel tines
16 sturdy steel power-trowel tines deliver impressive tilling, cultivating and weeding performance.
Ergonomic handle with padded grips
Comfortable ergonomic cushioned foam grips and fingertip controls for ease of operation.
Retractable multi-position wheels
3-position wheels adjust to manage cultivating depth and for easy transport. Raise to maximum height for deeper digging or to stow up out of the way.
Compact design
Generous 12" tilling width works perfectly in raised beds and narrow garden rows. The Mantis Electric Tiller/Cultivator 3550 weighs just 24 pounds; easy to maneuver in all gardens.
8″ Tilling Depth
Prepare beds for planting. Quickly weed around existing plants faster than using a hoe or other hand tools.
Built-in extension cord holder
Helps secure cord while using the Mantis 3550 tiller/cultivator.
Fold-down handles
Once you're finished, conveniently store your Mantis corded tiller in a garage or shed.
Specifications
| | |
| --- | --- |
| Engine | Built-in overload protection, Electric 9 amp, 120V / 60 Hz double-insulated, No fuel required |
| Warranty | Engine is warranted separately by the engine manufacturer, Two year limited warranty |
| Tilling width | 12" |
| Tilling depth | 8″ tilling and cultivating depth |
| Weight | 24 pounds |
| Tine Speed | 2 speeds: Speed 1 = 260 rpm, Speed 2 = 310 rpm |
| Grips | Padded ergonomic foam grips for comfortable control. |
| Guarantee | 60-Day Money-Back Guarantee: Try it for 60 days, risk-free. |
| Handle | 3-position adjustable loop-style handle, folds easily for storage or transport |
| Starting/Operating | included, Push-button | 2-speeds |