Mantis 2-Cycle Tiller/Cultivator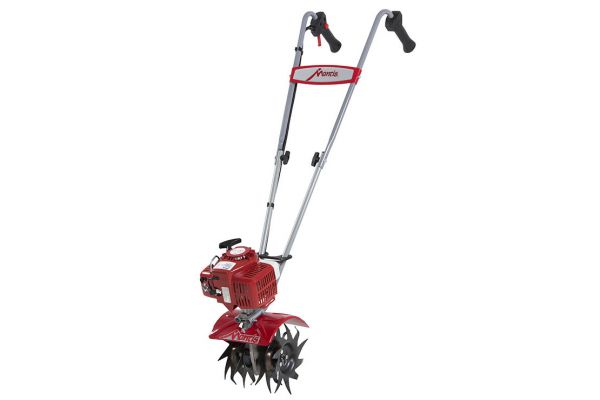 Double tap to zoom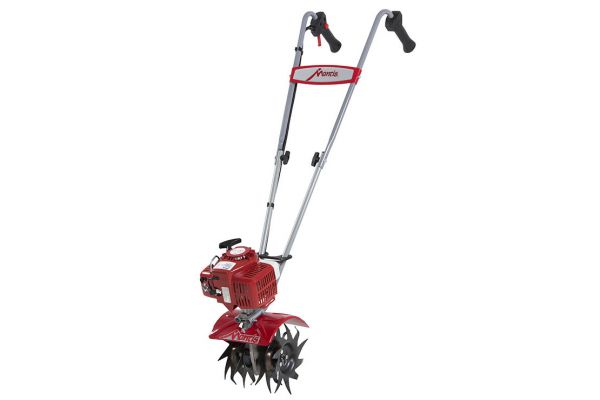 Features
Mantis 2-Cycle Tiller/Cultivator 7228
The Mantis 2-Cycle Tiller/Cultivator 7228 makes gardening faster and easier than you ever dreamed possible!
It's the lightest tiller (only 20 lbs) but it will bust sod or dig a planting hole faster than using a shovel. Plus it can speed-weed up and down garden rows. Just flip the tines around to the cultivating position.
The 2-stroke engine uses a 50:1 gas/oil mix.
Ergonomic handle grips with integrated throttle control for easy speed control.
Reliable Easy-Starting Engine
Commercial-grade two-cycle (gas/oil mix) engine with pushbutton priming for fast, easy starts every time.
Ergonomic Handles
Ergonomic handle grips are designed for comfort. Flush-mounted throttle control lets you control the speed.
10″ Tilling Depth
The 7228 Mantis Tiller/Cultivator will rototill up to 10″ deep. You'll have better soil. And better soil is the foundation of better gardening.
Fold-Down Handles
For easier transport and storage
Compact Design
The Mantis 7228 Tiller/Cultivator works in tight places where bigger rototillers can't. Weighing just 20 lbs. makes it easier to maneuver.
Uniquely Designed Curvy Tines
Mantis Tillers dig deep even into the hardest soil, instead of bouncing around like other mini-tillers. Tines are guaranteed for LIFE against breakage. If one of them ever breaks, we'll replace it for free. No matter how long you've owned your tiller.
Versatile
Turn the tilling/cultivating tines around and the "tiller" becomes an exceptional power-weeder. You'll use it all season long! Optional garden and lawn care attachments add even more versatility.
Specifications
| | |
| --- | --- |
| Engine | 2-cycle (gas/oil mixture in tank) 21.2cc |
| Warranty | Five Year Warranty. Five year handle-to-tine coverage. Tines are guaranteed for LIFE against breakage. Engine is warranted separately by the engine manufacturer |
| Tilling width | 9″ |
| Tilling depth | 10″ or reverse tines to shallow cultivate 2″ to 3″ |
| Weight | 20 pounds |
| Starting/Operating | Infinite speed throttle – user controls speed and power, Recoil (pull starter rope to start) |
| Tine Speed | Up to 240 rpm |
| Grips | Ergonomic handle grips are designed for comfort. |
| Guarantee | 90-Day Money-Back Guarantee: Try it for 90 days, risk-free. |
| Handle | Folds easily for storage or transport |