New Holland Boomer™ Deluxe CVT 54D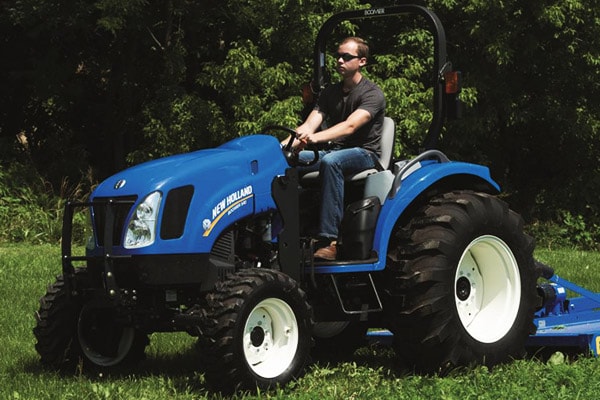 Double tap to zoom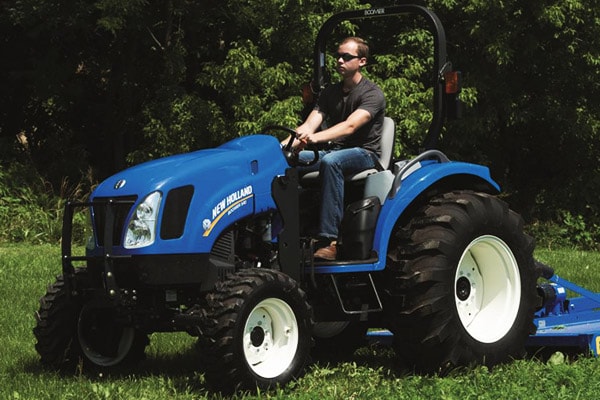 Features
SMOOTH EASYDRIVE™ TRANSMISSION
The EasyDrive™ transmission automatically adjusts to deliver the speed you want while matching load conditions.
LOTS OF ROOM
Whether you choose the ROPS platform or the SuperSuite™ cab, you get room to stretch out.
A VIEW THAT'S HARD TO BEAT
Visibility is excellent over the sloped hood and through the high-visibility roof panel on cab models.
CLEAN RESPONSIVE POWER
Quiet, clean-running engines deliver increased torque while saving fuel and reducing pollution. 
ENGINE
CLEAN-RUNNING TIER 4B ENGINES
These new Boomer tractors are powered by new three-cylinder engines that feature a common-rail, direct-fuel-injection system for maximum fuel efficiency. The engines also meet tough Tier 4B emissions standards, so they reduce greenhouse gas and hydrocarbon pollution for better stewardship of the land.
MORE TORQUE FOR INCREASED PERFORMANCE
The 46-horsepower engine in the Boomer 46D produces 118 ft-lbs of torque, while the 54-horsepower Boomer 54D engine features 133 ft-lbs of torque, for smooth performance in extreme conditions. Thanks to torque efficiency, you can also operate at lower engine speeds for better fuel efficiency.
AUTOMATIC SYSTEM
The New Holland emissions treatment system uses a combination of internal Exhaust Gas Recirculation (EGR) to control Nitrogen Oxides (NOx) and a Particulate Matter (PM) catalyst. The PM Catalyst system has two unique sections—a Diesel Oxidation Catalyst (DOC) that turns Nitrous Oxide (NO) into Nitrogen Dioxide (NO2) and a soot collection and combustion chamber that eliminates the remaining soot. Unlike other tractors that require extra fluids, operator input or that require you to stop operations, the New Holland system is completely automatic.
FILL UP LESS OFTEN
You can operate for longer periods in between fill-ups thanks to one of the industry's largest-capacity fuel tanks. Tanks are located at the rear of the tractor, and also have wide fill necks for easy refueling.
TRANSMISSION
EASYDRIVE™: THE NAME SAYS IT ALL
The EasyDrive Series II continuously variable transmission (CVT) is designed to provide smooth, seamless speed changes through varying condition. With a speed range up to 18.6 mph, you are sure to get all the chores done fast.
A SINGLE "GO" PEDAL
EasyDrive controls are unique, featuring a single pedal to control both travel speed and engine speed and match load conditions. Just press the pedal and go!
ELECTRO-HYDRAULIC SHUTTLE
While these are small tractors, they allow you to change directions using a convenient shuttle like those found on larger tractors. The level is mounted on the left side under the steering wheel for easy operation.
AUTOMOTIVE-STYLE CRUISE
The EasyDrive CVT gets the job done efficiently, so whatever you're doing feels less like work and more like fun. This innovative transmission offers an automotive-style cruise control, allowing you to hold, fine-tune, or resume working speeds. A response setting allows operators to adjust the acceleration and deceleration characteristics of the tractor to suit their driving style or application.
4WD ON THE GO
In slippery conditions, just engage four-wheel drive electronically with the flip of a switch.
Specifications
| | |
| --- | --- |
| Model | Boomer Deluxe CVT 54D |
| Engine |   |
| Model | FPT model R753IE4 |
| Gross horsepower hp (kW) | 53 (39.5) |
| Rated speed rpm | 2600 |
| No. Cylinders / Aspiration | 3 / turbo |
| Displacement cu. in. (L) | 136 (2.2) |
| Fuel tank gal. (L) | 13 (49.2) |
| Alternator amps | 75 |
| Transmission |   |
| Transmission type | EasyDrive™ Continuously Variable Transmission (CVT) |
| Maximum forward speed mph (kph) | 18.6 (29.9) |
| PTO |   |
| PTO HP @ rated speed | 42 @ 2400 rpm |
| Type | Independent Electro-hydraulic Engagement |
| Standard Rear rpm | 540 |
| Optional Mid rpm | 2000 |
| Hydraulics |   |
| Implement pump flow GPM (L/min) | 10.5 (39.7) |
| Steering pump flow | 5.4 (20.5) |
| 3 Point Hitch |   |
| Hitch type | Category I |
| Lift capacity @ 24" behind link ends lbs. (kg) | 2,800 (1270) |
| Axle Options |   |
| Four Wheel Drive (FWD) | Standard |
| Dimensions (Standard FWD, R4 tires) |   |
| Wheelbase in. (mm) | 73.5 (1867) |
| Overall length with 3-point hitch horizontal in. (mm) | 122 (3099) |
| Minimum overall width @ rear axle in. (mm) | 68.3 (1735) |
| Height to top of cab in. (mm) | 97.4 (2473) |
| Ground clearance in. (mm) | 12.3 (313) |
| Approximate ship weight lbs. (kg) | 4,190 (1900) |